REVIEW: 'Endgame' perfectly sums up 'Avengers' franchise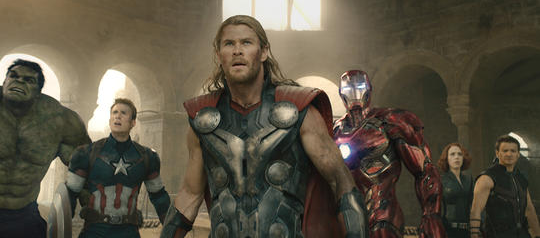 Hang on for a minute...we're trying to find some more stories you might like.
The culmination of 22 movies led to "Avengers: Endgame," and it did not disappoint at all. In fact, with its wide range of emotions, it may have been the greatest superhero movie of all time. (**Warning: There are major spoilers to "Avengers: Infinity War" and some minor spoilers to "Avengers: Endgame.")
The ending of the previous Avengers movie, "Avengers: Infinity War," left the viewers in shock as their favorite characters faded away into dust when Thanos snapped his fingers after he obtained all of the infinity stones. Thanos is the most powerful villain the Avengers have faced, and he believes that because of the lack of resources in the universe, half of the population should be killed in order for the other half to have better lives.
After half of the universe was killed by the snap, the main characters must attempt to move on with life. But they are the Avengers and they can't live with the guilt that they failed to stop Thanos.
"Some do [move on], but not us," Captain America said in "Avengers: Endgame."
They are tasked with somehow undoing the snap to bring back half of the universe.
It was interesting to see how our favorite characters would react to finally losing.
That's what makes this movie unique. Most superhero movies capture the superheroes dominating and winning. However, Endgame shows how the Avengers cope with a loss. They are disappointed with themselves and have to carry guilt with them. This way it's much easier for the audience to relate to the characters and it makes the movie more enjoyable. It's hard to make a superhero movie realistic but Anthony and Joe Russo, the directors of Endgame, did an outstanding job with this.
Endgame was full of surprises from all the creative action scenes to the shocking character deaths.
This movie was an emotional rollercoaster. There were a couple of major deaths, and I heard many people in my theater crying for our fallen heroes. Since I was invested into the Marvel Cinematic Universe, my eyes watered up a bit. This was the first time I had seen one of my favorite superheroes die, and it was an emotional but nice change of pace.  
But along with the deaths and the massive fight scenes, there was a lot of humor. The new character developments of Thor and Hulk were hilarious. Their characters had major changes that made them much more engaging. Ant-Man and Iron Man also added into the mix as their usual humor took center stage.
There were a lot of references to previous Marvel movies so this was the perfect way to wrap up over 11 years of films. With that being said, I would recommend rewatching the major Marvel movies to get the full experience.
The variety of heroes that were in this movie was astonishing and the work Marvel had done with these characters was shown off.
Another aspect of movies that is often undermined is the film score. Effective background music can shape the emotions of a scene. Alan Silvestri composed the score for Endgame and made the climactic scenes much more powerful.
Some people complained about the three hour run time, but when I was watching the movie it didn't feel like it was that long at all.
This movie was much more than a regular superhero movie and it was three hours well spent.
As Iron Man said, I love this movie "3000".