Video game club hosts Super Smash Bros Ultimate Tournament for community
Hang on for a minute...we're trying to find some more stories you might like.
Members of the Video Game Club, as well as other student spectators, filled the Black Box Theater to compete in the Super Smash Bros Ultimate Tournament on Saturday, May 4.
Super Smash Bros Ultimate, a video game released for the Nintendo Switch in 2018, consists of characters from many Nintendo franchises that face off in a battle of up to eight players to determine a winner. Twenty-four competitors fought it out to determine a Smash Bros champion, and about 25 more were in the audience watching. The players participated in a double elimination style bracket, with two big screens going at once and a practice screen off to the side.
Junior Jason Michalik defeated senior Cam Needles in the final game to win the tournament and a Nintendo Switch pro controller as well as a Super Smash Bros Ultimate poster.
"It felt great to win, and it was fun seeing different people in the school come together for a common interest like this," Michalik said.
Each player was placed in a "seed" rank, a number to determine who they would face. For the first round, players were randomly set against opponents.
Freshman and Video Game Club president David Soboyejo came up with the idea for the tournament, believing it would be a good way to get people of similar interests together.
"I thought that it would be fun to get people involved in a Video Game Club activity, even the ones that aren't a part of the club, just so they can see what it's about", Soboyejo said.
Freshman and vice president of the club Jason Subat also helped the idea come to life. Subat believes events like this are important for more than the competition.
"Video games aren't about winning; it's about spending a fun time with friends and getting a good time out of it even if you don't win," Subat said.
In this spirit, some competitors who were eliminated early stayed to cheer on the remaining players.
Despite each player having to pay five dollars in order to participate in the tournament, Soboyejo stressed that making money wasn't what this tournament was about.
"I don't really care about the money we are making; I am just glad to see the turnout and how everyone is being involved and having fun," Soboyejo said.
Since this tournament was a success despite minimal advertising, they are confident future tournaments will be successful too.
"We had 24 people who signed up for the tournament and even more who came to watch, so I imagine if we have another tournament, word will get out and it will be even more popular," Video Game Club adviser Matthew Querino said.
In the future, the Video Game Club plans to hold more tournaments like this, and they are confident even more players will show up, as well as others to cheer them on.
About the Photographer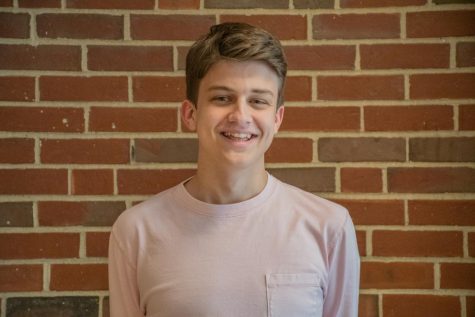 Jonny Ratner, Photo Editor
My name is Jonny Ratner and I am a senior at Algonquin, as well as one of the photo editors of the Harbinger.  I began taking photos for the Harbinger...