Northborough annual town meeting overview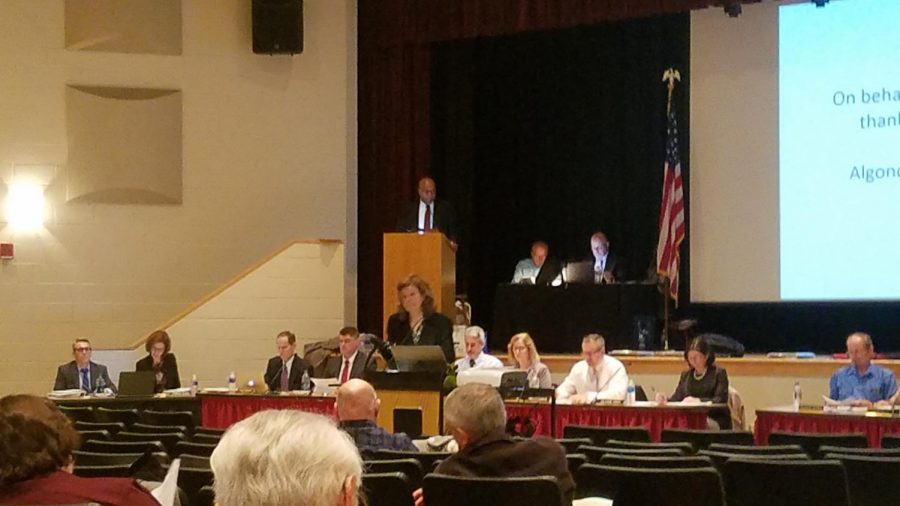 At Northborough's 2019 Annual Town Meeting, town officials and citizens presented articles, voters asked questions and raised their concerns and some Algonquin students were able to help make an impact on the community by getting multiple environmental bylaws passed. The town meeting occurred in the Algonquin auditorium over two nights, April 22 and 23.
Here's a brief overview of what happened:
Day 1: April 22
Retiring town officials, including Superintendent Christine Johnson, were thanked for their service to the town.
Town administrator John Coderre presented the Town Budget.
Johnson gave her last Northborough K-8 and Algonquin school budget presentations as superintendent.
Capital Improvement Projects were approved to replace an ambulance, a police cruiser, equipment for the Department of Public Works, road maintenance, a DPW Water & Sewer garage design project and security enhancements to the elementary and middle schools.
Northborough voters approved $3.5 million to purchase land formerly occupied by a gas station and houses across from Dunkin Donuts for a new fire station by the required 2/3 majority. This is the first step in acquiring this land. Because of the debt restrictions of Proposition 2 1/2, this must also be approved by a simple majority Debt Exclusion ballot vote during the May 14 town elections.
Community Preservation Funds were approved for historic markers and interpretive signs, affordable housing, lighting for fields at Melican, a debt payment for White Cliffs and the Community Preservation Act administration.
The last article of the day was a bylaw change to clarify what wetlands are under the jurisdiction of the Conservation Commission.
Day 2: April 23
After going through the generally routine budget and capital improvement articles on day one, day two involved the more controversial bylaw changes and citizens petitions.
Plastic bag and Polystyrene reduction articles were both passed by a 2/3 majority vote after a presentation by Algonquin sophomore Sravya Tanikella and Northborough resident Jeanne Cahill.  
Retail stores in Northborough will no longer be allowed to issue plastic checkout bags four mils thick or less, nor may businesses issue polystyrene take out containers or drink cups.  (one mil is 1/1000 of an inch). Both bylaws will become effective January 1, 2020.
This article was heavily debated after the presentation. There were arguments over the usefulness of plastic bags and the wording of the article, particularly the presence of a severability clause, which allows the valid parts of the bylaw to remain in effect if parts are found to be invalid.
With the approval of more articles, licenced Northborough businesses will now be able to serve alcohol at 10am on Sundays, voters will arrive at future town meetings at 7 p.m. instead of 7:30 p.m. and electronic messaging signs are defined and regulated by the town's zoning laws.
Three citizen petition proposals were rejected.  
Northborough resident Douglas Stone presented a proposal to eliminate the quorum for Town Meeting. This would mean that the town meeting could start without 100 registered voters in attendance. This article had very little support among voters, who rejected it almost unanimously.
Article 39, which proposed changing the bylaws to make the town DPW responsible for shoveling sidewalks instead of residents, was rejected by voters.
Article 40 proposed prohibiting duplexes in the residence C zoning district as a solution to an argument over duplexes, which had been a major topic at the 2017 Annual Town Meeting. The residence C district includes most residential land in Northborough south of Interstate 290 and excluding the Western part of town, Ghost Hill and residential areas near the town center. The result of the vote was not immediately obvious, so tellers had to count the individual votes, whereas most results are determined visually by the moderator. The article failed to receive the required 2/3 majority vote, with 83 votes in favor against the opposed 66 votes.