Tri-M Open Mic Night showcases student talent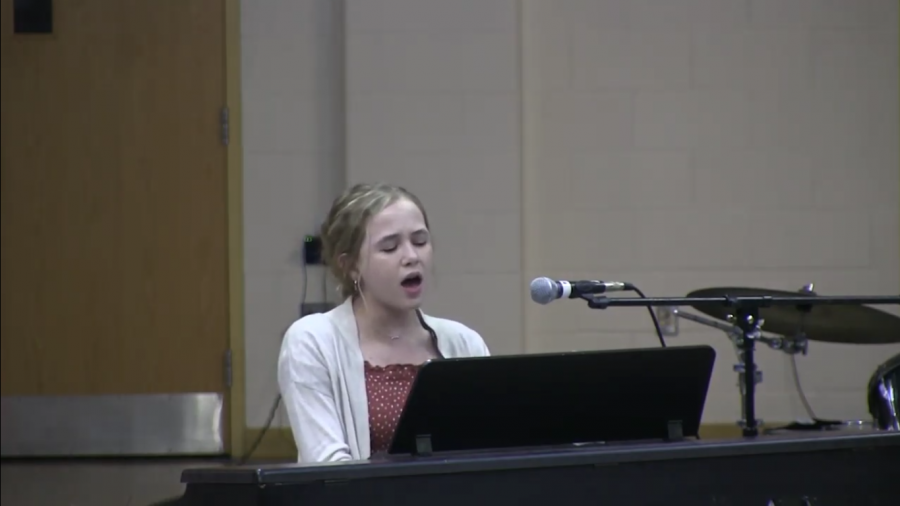 The Tri-M Open Mic Night included 17 unique musical performances, featuring original songs and a dance mashup, on May 1 in the cafeteria.
Tri-M, an abbreviation for "Modern Music Masters," is a national high school and middle school honor society. The Algonquin chapter sponsors an annual Open Mic Night, now celebrating its tenth anniversary.
"[The Open-Mic Night] started in 2009 when Mr. Dennis Wrenn, who was a music teacher, passed away," Tri-M co-adviser Amy Collins said.
"The idea behind [Open-Mic Night] is that it's a time for anyone in the school who has some kind of talent to have the opportunity to come and perform," Collins said.
To start off the evening, freshman Sarah Boush blew away the crowd by singing and playing a heartfelt original song on the piano.
"I kind of wanted it to be relatable to anyone," Boush said. "I didn't want it just to be about a relationship; it could be a friendship. It's just about drifting away from someone and not knowing why."
Throughout the night, performances ranged from several acapella groups to a saxophone quintet.
Senior Matt White, along with four other saxophone players, performed "Don't Stop Believin'," which was a showstopper.
White also performed "Shallow" by Lady Gaga with senior Liliko Uchida. He currently plays five different instruments and aspires to continue his musical passion in college.
"I'm planning to minor in music, join student groups, get involved, and I'm probably going to try and start a band," White said. "Music for me is a way to have fun, and it's kind of my escape."
In one of the most electrifying performances of the night, junior Sunny Murthy shocked the audience with her amazing hip hop moves complemented with energizing mashup music.
Algoncapella performed "Got to Be Real" by Cheryl Lynn and "Writings on the Wall" by Sam Smith.  The crowd applauded the acapella group's wonderful harmonies and tone.
"I joined Algoncapella when I was a sophomore," junior Matt Webster said. "I'm going to be taking all sorts of music classes next year and in college."
Another acapella group, Ladies First, captivated the audience with "You Will Be Found" from "Dear Evan Hansen" and "Lady Marmalade" from "Moulin." Junior Sophia Scaringi, who has been in the group since her sophomore year, wants to make the most of her singing career.
"I play piano and jazz so I want to keep doing it next year," Scaringi said. "I want to continue music until college and hope to join an acapella group."
The Tri-M Open Mic Night brought the community together through the diverse field of music, uniting through emotion and bringing forth a common ground for all students to fit together.