Crowning Palvin as 'plus-size' perpetuates major body image issues
Hang on for a minute...we're trying to find some more stories you might like.
Victoria's Secret (VS) announced that Hungarian model Barbara Palvin would become the newest VS angel on March 14, 2019,.  Palvin, who was given the honor alongside English model Alexina Graham, was intended to add diversity to a typically controversial line up of unrealistic body types.  For Graham, she is the first red head to be bestowed the honor. For Palvin, she is being crowned as the first angel with a "realistic body," meaning that while this may not be every woman's body type, it is more achievable than past angels'.
The fashion industry praised VS for their choice, calling Palvin the first "plus-size" model to be named an angel, but here's the issue.  According to IMG Models, one of Palvin's agencies, she is a US dress size four and a UK dress size eight, which puts her right on the cusp of being considered a plus-size model, which starts at US dress size eight, two sizes above Palvin.  On the surface, this does not seem like a major problem, but as I was scrolling through Twitter and came across "Palvin crowned Victoria's Secrets first plus-sized model," I couldn't help but think she looks smaller than me. I couldn't help but think, am I plus-size?
And I hate to admit it, but I help anything but think what can I do to no longer be plus-size?
That self-hatred is the vicious cycle the fashion industry is perpetrating, but this is also the vicious cycle that we allow.  By giving these companies a pass on who they falsely call plus-size, we are spreading the idea that being thin is being beautiful.  
Yes, Victoria's Secret and the countless writers that misrepresented Palvin as plus-size are at fault here, but it is also on us.  We are responsible for keeping these companies accountable for their representation. Calling VS and its other competitors out on social media, but then going out and buying their apparel defeats the entire purpose.  If a company knows that you are going to buy their product regardless of their actions, they have no need to change. VS may be facing a downfall, but including Palvin creates the image that they're starting a minor change.  Skirting by on the promise of change is not enough. If we really want to see change in the models that are represented, we must actually follow through on our promises to boycott until they meet our requirements of diversity.   
About the Contributors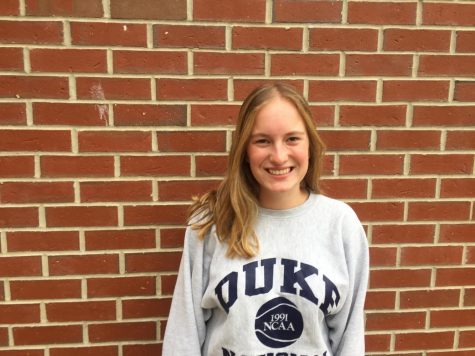 Liza Armstrong, Online Editor
Liza started writing for the paper her freshman year in journalism class after some not so subtle hints from her eighth grade English teacher.  After...