Unified Track connects students of all abilities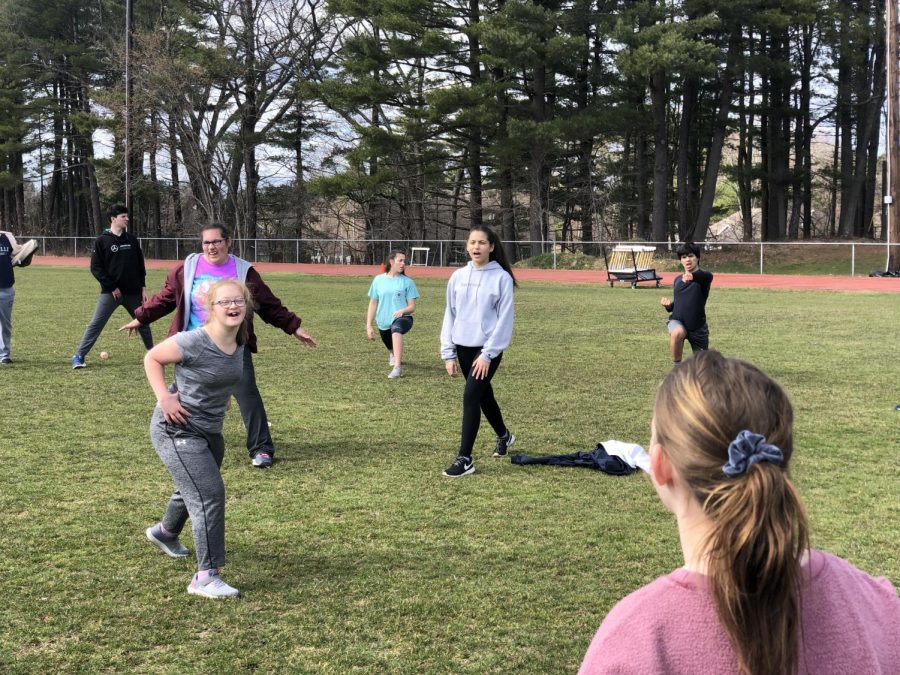 Unified track has been around since 2012, and the number of participating athletes has only grown since by providing students of all abilities the chance to compete in track and field events and create strong bonds between students with and without intellectual and developmental disabilities. Coach Kevin Hausmann has been the head coach for unified track for all seven seasons.
"It started when a group of students from Algonquin and Westborough heard about unified sports," Hausmann said. "We were one of the first [of] seven schools in Massachusetts to have Unified Track."
At practice, the team's positive energy and excitement shows because of their enjoyment of getting to be a part of an inclusive team, according to senior captain Lily Schaefer.
"We get to try new things and there are just a lot of opportunities for people to reach out to others and help them and try something new," Schaefer said.
Every member of the team puts in their full effort to become great athletes, according to junior captain Halle Zides.
"You can really see the change that the athletes go through in the season because you can see that they are being included in something that allows them to be apart of a team and a family," Zides said.
According to Schaefer, the team also represents what it means to embrace one another.
"Everyone is just very supportive and we have such a great team chemistry," Schaefer said. "There's always a really welcoming atmosphere, and everyone just really feels like a part of the team."
At the start of each unified track season, students without intellectual or developmental disabilities are paired to students with disabilities. The experience allows special needs students to be included in a sport, while providing perspective, friendship and joy to students without disabilities.
"I'm benefitting just as much as she [ junior Sofia Roumiantsev] is and I think that that is something really special," Zides said. "I'm helping her just as much as she is helping me."
According to post grad Kaleigh Barker, there are so many positive factors of being a part of unified track, like getting to meet new people, running and getting to hang out with friends.
"The most positive impact is seeing all my friends running," junior captain Sofia Roumiantsev said. "They've impacted me, and I've also impacted them in a way where I can help them be the best that they can be."
Overall, according to Roumiantsev, the team has amazing sportsmanship and athleticism which will definitely take them far.
"We're such diverse kids who love what they do and I can't wait to see what happens in the future," Roumiantsev said.