Every detail counts for the Apple Tree progress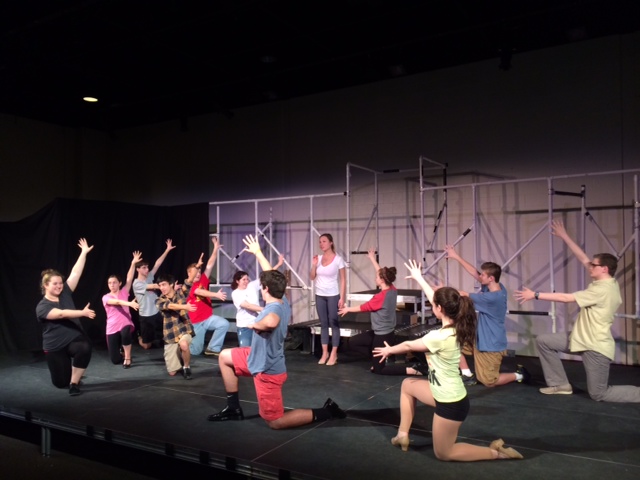 The Apple Tree has consumed the lives of English teacher Tom Alera and 19 students, who are working relentlessly to perfect the show.
The original two practices a week has turned into daily, three hour rehearsals for the cast and crew as opening night creeps closer.  The cast has been putting in endless amounts of effort both at rehearsal and outside of it.
"[I put in] like 10 hours a week.  It's like a part-time job," junior Julia Baker said.
"When I'm not at rehearsal, I'm practicing my lines or going over my dances," senior Brittany Price said.
Director Alera, choreographer Steve Yerardi, and music director Linda Barbieri are working to adjust every minor detail.  No misstep, incorrect line, or out of tune note goes unnoticed in an effort to make the Apple Tree as strong as it can be.
"I didn't expect it to be as much work as it is," sophomore John Clarke said, who plays the prisoner in his first ever production.
As part of the show's fundraising, raffle tickets are being sold to win gift baskets or one of two iPads. The iPads were donated by the family of Brittany Price, who plays Najera and Passionella.
Along with the raffle tickets, the cast is selling tickets for the performances at all three lunches through Tuesday, May 27, 2014 for $10 each.
This is the first time that an Algonquin production will be putting on four separate performances.  The cast and crew's hard work will be put on display during the four performances on May 28, 29, 30, and 31 at 7pm in the small performance theater.
About the Contributor
Clare Strickland, Editor-in-Chief
Clare Strickland joined The Harbinger in early 2011 as a staff writer.  She was Copy and Layout Editor for her sophomore year, Managing Editor her junior...