REVIEW: Khalid sends ripples throughout music industry yet again on 'Free Spirit'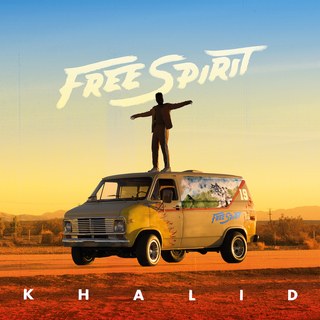 The new Khalid album "Free Spirit" exceeded expectations by giving the world a quirky style of music with lyrics that can evoke emotion in anyone. The album is currently at the number one spot on the billboard 200 chart, beating out Billie Eilish, Nipsey Hussle and Ariana Grande. Khalid's music is like no other artist on the radio; he combines a R&B with pop and soul styles which makes it easy to identify.
The 21 year-old singer released his debut album "American Teen" in 2017 which soared to No. 9 on the Billboard 200 chart in the same month it was released. With over 47 million monthly listeners on spotify, Khalid has definitely set a high standard for himself.
My favorite thing about Khalid is how every album has felt like a continuation of the last. I feel like I am listening to a story with each album reflecting on his past while also focusing on the present. He sings about the events in his life that are impacting him the most. He has a meaning to what he publishes; he wants his listeners to hear and understand his story. Khalid's vocal style is similar to that in soul music. His voice gives his music a vertigo feeling and it makes his story about living life in the 21st century feel real and relatable.
The first track on his album, "Intro," introduced a different feeling from his previous songs. The song was sad and raw and was a creative way to introduce the way he felt about the next chapter in his story. Most of his music has been on the happier side, focusing on themes of love, but this song talks about how hard love is and how he believes he is awful in relationships.
Many of the songs on "Free Spirit" showed a much more vulnerable side of Khalid as well as "Intro" does. "Heaven," "Hundred" and "Alive" are some of the other songs that embodied Khalid's darker, sadder side.  By being more vulnerable it shows how he is maturing, but continuing to learn about life at the same time.
The lyrics of "Alive" and "Heaven" prove how he is edging into a darker side as he sings "Lord, there's nothing left for me out here" (Heaven) and "I shouldn't have to die to feel alive" (Alive). Those lines are specifically gut-wrenching to hear him sing, but I love it at the same time because hearing artists have the courage to dig that deep into their feelings is inspiring.
Khalid also collaborated on "Outta My Head" with the legendary John Mayer. The song was probably one of the best on the album as it was more fun and upbeat than the rest of the songs on the album. It was refreshing to hear that song as well as "Twenty One," "Talk" and "Right Back" after listening to the sadder music because of their positive upbeat sounds and lyrics.
Many popular songs use the same basic electronic sounds and instruments, so it was refreshing when Khalid experimented with other instruments such as acoustic guitars and variations of electric guitars in this album. In his last albums there were variations of course but they heavy on the synthesizers and electric piano sounds. Some of the songs that used style that was different from what he has done in the past felt weird to hear at first, but the more I listened to them the more I liked them. It helped his album stand out by making his songs more distinct.
One thing I didn't like was that Khalid used previously released songs on his new album. "Saturday Nights" and "Better" were on Khalid's 2018 "Suncity" album and "Talk" was released as a single in February. Although "Talk" was meant to be the single for this album, Khalid has so much popularity the song has been played constantly since it was released and I became sick of it before the album was released. Although many artists do that with their albums, as a fan of his previous work, I am a little disappointed about this. For those who own his other albums and are looking to buy the new album, it is as if they are wasting their money by buying songs that they already have. Also, because they are played on the radio often, when I listened to the album I was annoyed when they came on since I was already sick of them. I didn't want to listen to them for what felt like the 20th time that week.
Still, "Free Spirit" is an album that almost everyone can find a way to enjoy and connect to. The amount of feeling and emotion packed into this album can appeal to everyone, no matter your music preferences. His style combines so many different types of music which enhances his choice of words, making it a sensational and iconic.
I assure you that everyone can find something to like within this revolutionary album.