REVIEW: Hozier continues with folk, indie sound on 'Wasteland baby!'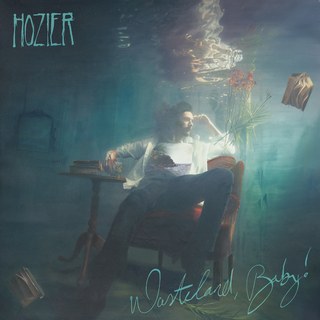 Hozier's powerful voice made ripples in the music industry on his debut album, "Hozier" in 2014. After releasing his newest album, "Wasteland, Baby!' in March 2019, Hozier  has yet again sent shivers down listeners' spines with moving lyrics, strong vocals and beautiful instrumentals.
When I first learned Hozier was releasing his new album, I was skeptical, to say the least. His first album was so raw, so filled with emotion that I thought there was no way he could produce something as real after five years in the spotlight.
However, despite my skepticism, I was truthfully moved by "Wasteland, Baby!" The album begins with the song "Nina Cried Power," featuring Mavis Staples, commenting on the power that ordinary people have in making a difference. It is clear from the very beginning Hozier is still diligently making music that has meaning.
"Nina Cried Power" is also accompanied by a magnificent sound. In attempt to empower today's generation, Hozier uses strong percussion and deep instrumentals to give the sound of the song the same meaning as his lyrics.
Much of the album focuses on the progression of an unhealthy relationship, as seen in the song "Movement." On this track, you can hear the emotion in Hozier's voice and his consumption with his partner. His raw emotions come across in every song on this album and this emotive power is missing from the work of many top artists in the industry today.
Hozier still offers some more lighthearted sounds with songs like "Almost (Sweet Music)," which is difficult to not dance to. Tapping into his jazz roots and adding elements of pop and indie, throughout the album, Hozier shows how versatile he can be.
Many critics argue that this new album was simply an extension of his previous album. However while his style of music has stayed the same, Hozier's style is so unique to the top charts that his new album is still incredibly refreshing.
The Irish singer's voice alone is unique enough to make his stand out. Paired with his distinguishable mix of jazz, indie, pop, R&B and soul, there is no need for Hozier to completely change his style. It was not necessary for Hozier to stray far from what he was producing because the music industry already completely lacks what he aims to create.
While Hozier's style differs greatly from the other artists that accompany him on the top charts, his music bridges the gap between fans of pop and indie through his massive fanbase.
While Hozier's style is by no means new to the music industry as a whole, as artists such as James Bay and Tom Odell also have a similar style, his style standout amongst the typical songs heard on the radio. I am incredibly excited to see what Hozier does with his continuously growing platform, especially if he continues with what he is producing now.