Filler fills auditorium for speech about avoiding dangerous situations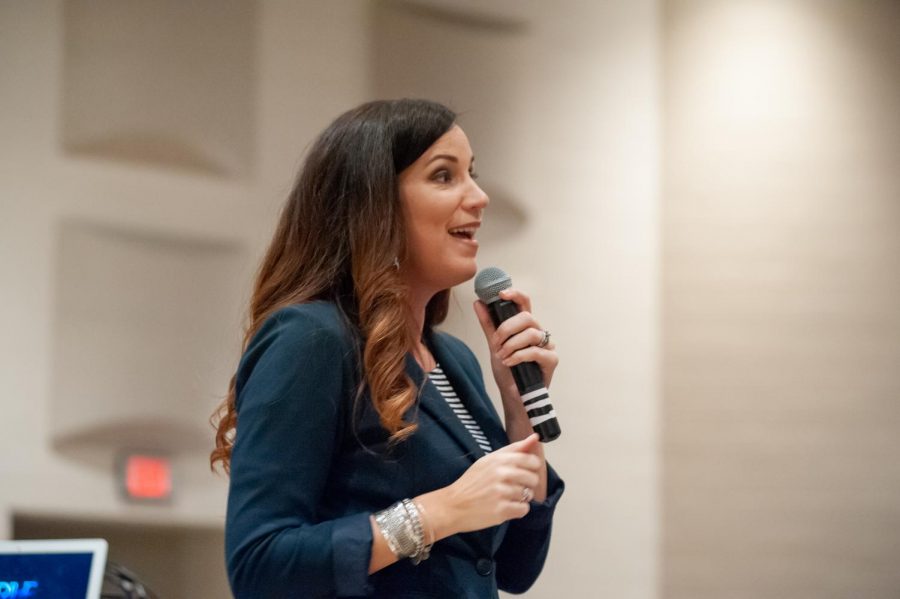 "Close your eyes, and, for a moment, imagine the most important person in your life and all the things they do for you. Now imagine, if one day, that person was gone forever."
This is how youth motivational speaker Cara Filler starts out all of her speeches on making positive choices, and how she began the assembly attended by freshmen and juniors on March 22 during periods 6 and 7.
Filler, who has now spoken at Algonquin for three years, says on her website that her mission is to not only convey her story of how she lost her sister, but to help others learn from their own stories and make smarter choices to ensure their own safety. She intends to help others understand that every choice people make each day, no matter how small, has an impact. Her presentation was centered around the dangers of speeding, but she also addressed general ways to get out of any dangerous situation.
The event was set up by guidance counselors Rebecca Haberman and Andrea Hotchkin who are the advisers of Take Action, See Change (TASC), a student run organization, which focuses on helping teenagers make safer choices when put in tough situations.
"We have continued to bring her back because she is memorable," Hotchkin said. "I have always found her to be genuine, funny and very relatable to our student population. Rather than lecturing or telling students to 'just say no,' she engages with her audience while offering practical strategies to navigate some difficult situations."
Filler offered  strategies for students to get out of unsafe situations including making up simple excuses that would ultimately stop anything from going wrong, such as telling the driver of a speeding vehicle that you don't feel well and you need to be let out right away.
"Cara's presentation had a positive impact on many of our students by empowering them to make choices that matter," Hotchkin said.
When she was a  teenager, Filler was leaving the mall one day with her sister, Marin, after they had just applied for jobs. Her sister decided to get in her boyfriend's car to drive her home. Her boyfriend ended up speeding and crashing into another vehicle head on, which killed Marin. The boyfriend survived the crash.
The students in the audience were impacted by Filler's story and message.
"When I think about someone dying where there was someone driving three times the speed limit, that was something that connected with a lot more kids than drugs or alcohol since so many more kids are guilty of speeding, and it's such a real possibility," junior Ethan Candillo said.
Haberman feels that Filler also does a great job with telling the story in an impactful way.
"I always loved how she mixes humor into her story, as well as advice to students to get out of situations they are worried about, and to help them make better choices," Haberman said.
From Filler's way of engaging the audience through her presentation, freshman Jessie Lambert realized the consequences speeding can have.
"I think that her personal story and putting us in her shoes definitely made everyone pay attention and sympathize with her more," Lambert said. "It also caused me to realize the terrible consequences of speeding."
Teachers who attended the assembly also listened to the values Filler spoke about.
"The most important thing that she said is the fact that you have choices every day and the choices are going to determine your future,"  social studies teacher Kristin Turner said.
About the Contributor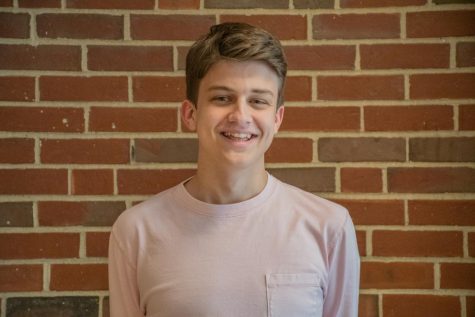 Jonny Ratner, Photo Editor
My name is Jonny Ratner and I am a senior at Algonquin, as well as one of the photo editors of the Harbinger.  I began taking photos for the Harbinger...