Best Buddies hosts free coffeehouse to promote inclusion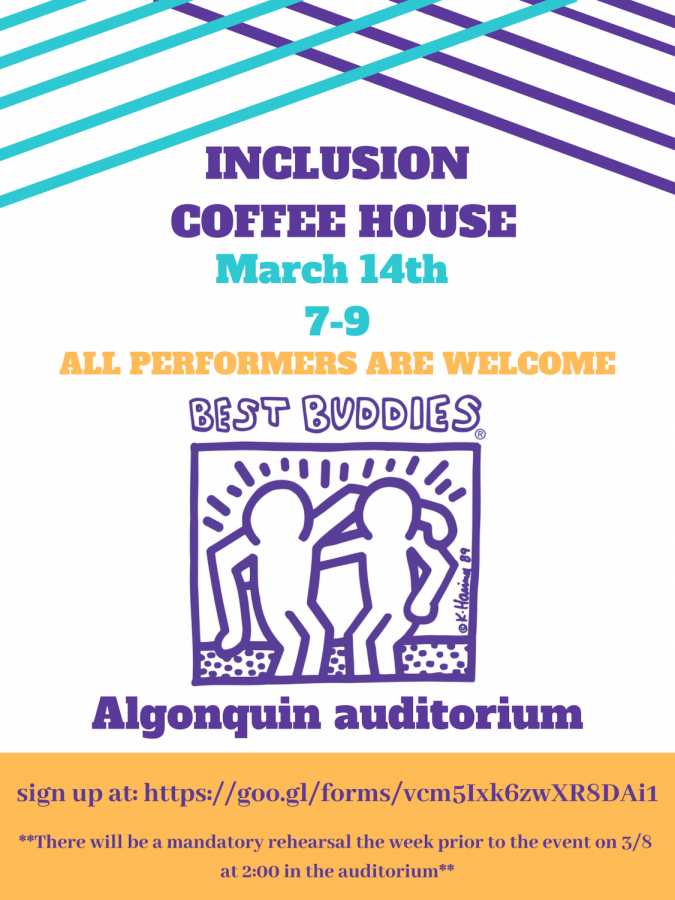 Best Buddies is holding an Inclusion Coffeehouse in the auditorium on Thursday, March 14 to  showcase student performers while raising awareness for inclusion of people with disabilities.
The event will run from 7 pm to 9 pm and admission is free.
"We started [the Inclusion Coffeehouse] last year, it went really well," junior Best Buddies Officer Jordan Manousos said. "It was a definitive event to get everyone to come together and to showcase their talents regardless of your abilities, or who you're friends with. It's really just a safe place for everyone to go to spread what they want to spread."
The goal of Best Buddies is to make the school and the community a more inclusive environment.
"Part of the Best Buddies' mission is friendship, but it's also about making sure our community pushes and encourages people to be comfortable with including others in all parts of their day," science teacher and Best Buddies adviser Kevin Hausmann said. "What we are showcasing is people with IDDs (intellectual and developmental disabilities), or typical students, enjoying music and showing their performance abilities together."
The coffeehouse will include performers and groups from all around the school.
"There's going to be a big song with Algoncapellanand Ladies First together with the Unified Chorus, which is going to be really good," Chapter President and senior Hailey Lowe said.
The Inclusion Coffeehouse will take place during Inclusion Week at Algonquin.
"Our main goal of this week is to just advocate for inclusion whether it's joining Best Buddies, or it could be as small as sitting with someone at lunch," senior Best Buddies Officer Lily Schaefer said. "Inclusion can be found everywhere, it's really about the little things that you do."