Dynamic DECA duo plans for ICDC domination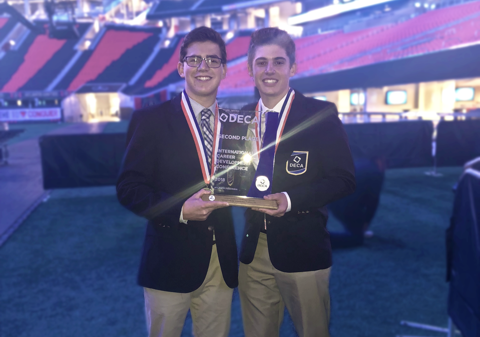 Michael Spataro, Staff Writer
March 15, 2019
Most Algonquin students take at least one business class, but seniors Sam Forbush and Josh Harmon have taken their business educations to another level by competing in business competitions against people from across the country, placing second in the nation last year.
Forbush and Harmon are partners in DECA, a club which allows students all over the nation to compete in their selected business subjects. The two compete in the Virtual Business Challenge Sports (VBC), which is a business simulation that tests students' skills within its particular business environment, giving students real life business scenarios that involve problem solving and business skills.
Both Forbush and Harmon can point to the moment where they realized that business is something that they wanted to pursue.
"My freshman year, the class I was in with [former applied arts and technology teacher Christopher] Martin had a big big project, and I really enjoyed it," Harmon said. "We got to do a lot of different things with business, finance and marketing. So that made me really want to consider business as a career path."
Forbush was hooked after doing the Virtual Business Challenge for the first time.
"We started doing the Virtual Business Challenge just as something fun to do while [DECA adviser Patricia] Riley was out," Forbush said. "And one day, I just took a few hours of my time just to go through and see what I could do with it, and we got really high in the standings. It was at that point where I realized that this was something that I enjoy doing."
The duo has been working together since their sophomore year, and their chemistry seems to help them in competition.
"Usually [communication] flows pretty smoothly, we've been doing this together for three years now," Harmon said. "I'd say we can kind of read each other's minds when it comes to DECA. We know what we are going to do."
Last year, as juniors, they placed second in the nation in the Virtual Business Challenge at the DECA Nationals in Atlanta.
"It was very nice," Forbush said. "We really wanted to get first. I think if we just put in a little more time, this year will be wide open."
Having a second opportunity at Nationals, Harmon and Forbush are looking forward to taking what they did last year, which includes event planning such as running concerts, and building off what they have learned.
"I think what we have to do is rethink the way we deal with certain parts of the simulation," Forbush said. "Specifically concerts because I think there is a lot more room to improve getting profit from each concert."
The dynamic DECA duo looks forward to Nationals in April in Orlando.
"Obviously the goal is first place," Harmon said. "We've been hovering around there for awhile, so it's really first place or bust."