Gymnastics qualifies for States for first time since 2012, clinches sixth place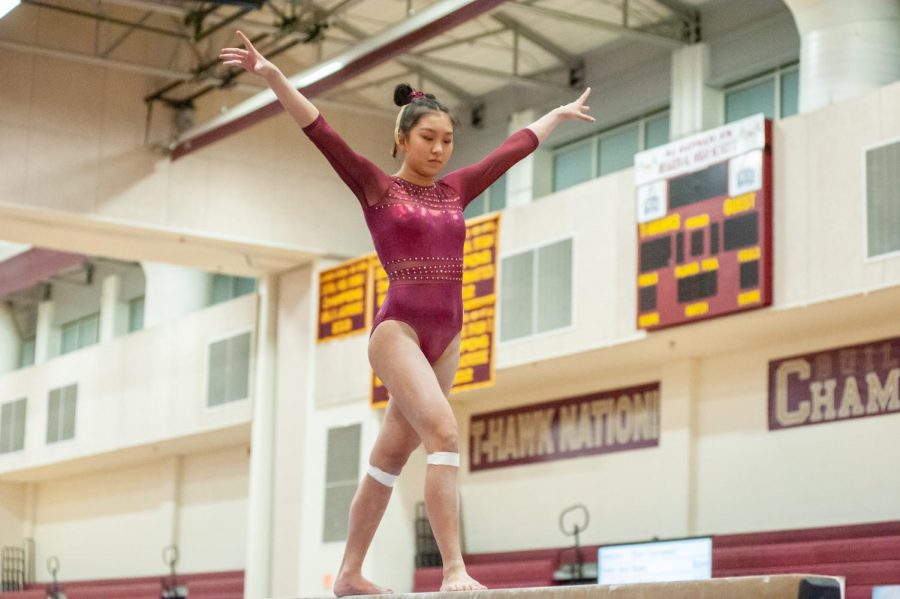 Despite multiple injuries that affected gymnasts, the gymnastics team clinched sixth place at the States meet with a final score of 143.05 on Saturday, March 2. This was the first time the team has qualified for the States meet since they were State Champions in 2012.
Even without reaching their goal of fourth place to beat their fifth seed, the team is not disappointed in the way they performed at the meet.
"We did really well at States," senior Tessa McAndrews said.  "I think a few of our scores were definitely lower than they should've been which was really frustrating and unfair, but it happens to everyone.  We had a few mishaps on floor, but we had really good beam. We had really good bars, and I think our team spirit was there. Everything was there, it just didn't have the outcome we wanted. The goal wasn't to win; it was just to go out there and have our best meet."
The team was helped by the all-around scores of freshman Lizzy Debroczy with a 37.85 and Mia Gorman with a 35.65.  Debroczy was the all-around champion at the State Individual Championships on Feb. 18.
In preparation for States, Debroczy upgraded her usual pike on vault to a Yurchenko layout to score a 9.55 on vault.
"I was really nervous," Debroczy said.  "I didn't know how it was going to go because I had only done it a few times, but the adrenaline helped me a lot."  
Between almost every routine, the team showed immense support for one another. It reminded coach Jordan McStay of her time on the team in the 2011 and 2012 season, the years the team was back-to-back State Champions.
"I haven't been around for the teams after I graduated [in 2012], but this team reminds me exactly of that team [in the sense] where we were family," McStay said.  "We were friends outside of the gym. We weren't just teammates. We actually hung out. We liked being together. We loved hanging outside of the gym. I just feel like the bond they have reminds me exactly of the one that I had."
McStay also said that the injuries, while a setback, were not detrimental to their performance.
"This team has so much depth," McStay said. "Anytime anybody got injured, we had someone else to put in their spot, and I'm not saying that anyone's replaceable, but I'm just saying the talent on the team has so much depth that everyone's so awesome and everyone's so amazing, and I have a hard time making a lineup because I can only put six up on an event.And I could put almost every single one of these girls up on every single event."
One such example of this depth came on floor, where junior Sarah Middleton could not compete after her injury. A pulled groin became too much after vault and bars.  McAndrews was then given her place in the floor lineup.
"I was given [two of the 10 minutes given to warm up]," McAndrews said.  "I was not ready for this at all, but when my coach asked me, there was no way I could say no because I wanted to end my Algonquin gymnastics career with a bang…[It] wasn't my best.
Despite a rough start, McAndrews was proud of her performance.
"I tripped on my first tumbling pass," McAndrews said. "It was really important to me to just show my teammates that one mishap can't bring down the rest of your routine…It was really special to compete floor in my last meet just because floor is something that everyone wants to do."
Senior captain Leanne Hart was also given her first opportunity to compete floor all season and felt the strong support of the team behind her.
" I was nervous I wasn't going to make my team proud, but then at the end of the day when I got out there, I realized that everyone was so supportive of me just having fun and enjoying my time rather than the score that came up on the board, and I went out there and I did the best that I could," Hart said.
Hart ended with an emotional message to what this team has meant to her the past four years.
"I don't think they've realized it, but [my teammates] give me a safe space to come," Hart said. "They give me a happy place to come.  They give me a reason to come back to the gym every single day….They have made just such an impact on me, and it's something I will never forget."
About the Contributors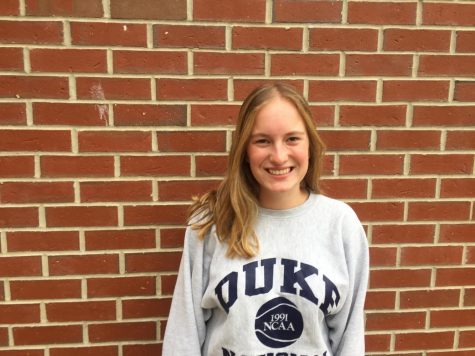 Liza Armstrong, Online Editor
Liza started writing for the paper her freshman year in journalism class after some not so subtle hints from her eighth grade English teacher.  After...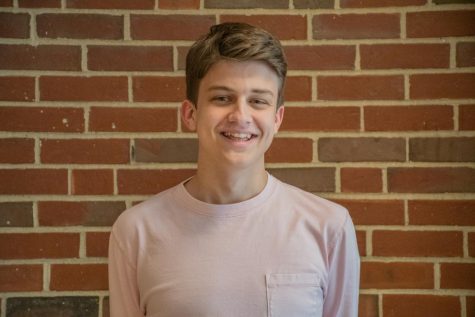 Jonny Ratner, Photo Editor
My name is Jonny Ratner and I am a senior at Algonquin, as well as one of the photo editors of the Harbinger.  I began taking photos for the Harbinger...