Freshman rises as star player of boys' basketball
Boys' basketball's standout freshman Alex Karaban has made a notable impact on the team this season.
As a starting player in every game, Karaban has become a leading scorer this season averaging about 10 points per game. Standing at 6'7″, he frequently makes significant three-point shots or will be at the right spot to catch or throw a pass.
Karaban's skill and constant effort has become more obvious as the season has gone by. At the team's first playoff game he scored 14 points, including a crucial three-point shot in the last minute to help secure a win over the higher seeded Franklin team. However, it is no surprise that Karaban has developed into the varsity player he is now. Since he began playing in second grade, not only has he become great at basketball, but it has also been a big part in shaping who he has become.
"Basketball has taught me how to work hard in school," Karaban said. "It has also taught me time management, as if I want to play basketball I first have to find time to get my other work done."
Algonquin's second game against Catholic Memorial on January 17, stands out to Karaban as his best. The team had an upsetting loss in their first game against Catholic Memorial, but that only motivated Karaban to play harder, concluding in Algonquin walking away with a win.
"My best game was against a top team in the state, Catholic Memorial, when I had 35 points and 20 rebounds," Karaban said.
Karaban's team is grateful for Karaban's contributions to the team, according to his teammate sophomore Patrick Freeman. They know that wherever they need help on the court, Karaban will be there.
"Alex Karaban brings so much to the team on offense and defense," Freeman said. "He is reliable on offense; when you need a big shot he always hits it."
Karaban made the decision to play for Algonquin after going to Saint Peter Marian and playing for them in the 2017-2018 season. He decided it was in his best interest to come to Algonquin and repeat his freshman year, however, he is still grateful for his time and experience at Saint Peter Marian.
"It was helpful for me as I met new people that can help me in the future," Karaban said.
Now, he speaks nothing but high praise of Algonquin and its program. Karaban said his teammates have become lifelong friends and the student support encourages him even more.
"The best part of playing for Algonquin is the new friends you make and spending time with them, as well as seeing the community coming to support you," Karaban said.
About the Contributors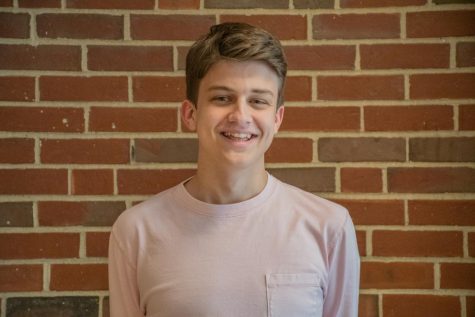 Jonny Ratner, Photo Editor
My name is Jonny Ratner and I am a senior at Algonquin, as well as one of the photo editors of the Harbinger.  I began taking photos for the Harbinger...