REVIEW: Statuesque, Strong, Sweet: Simino continues progression as unique artist on 'NØIR'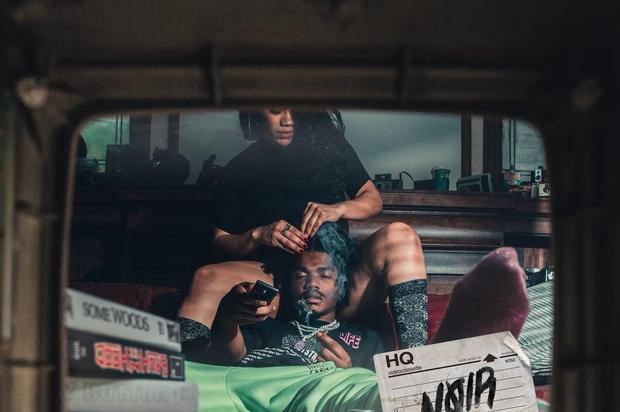 Smino's second studio album "NØIR" is another masterful album from the young St. Louis rapper, as well as a notable progression in his sound.
Using limited features, most from his musical collective ZERO FATIGUE, "NØIR" establishes Smino as a true artist in a time where few can truly create.
To restrict Christopher Smith Jr., better known by his stage name Smino, to one role, whether singer, rapper or producer, would be ill-advised. His grandfather was a bass player for the legendary blues singer Muddy Waters, and his father also pursued a musical career as a key player before both men decided to focus on their families instead.
That being said, Smino has already outdone his kin, becoming a sensation in the St. Louis region with fans interested in exploring what else rap has to offer. His rise has come at a crucial time; mainstream rap is becoming increasingly homogenous, sacrificing soul and creativity for efficiency and popularity. Smino's sound, on the other hand, which he has previously described as 'futuristic funk' and 'soulful rap' is a refreshing departure from the Lil Pumps and Post Malones that dominate, albeit undeservingly, the top charts.
Smino's newest album is a clear maturation of sound from his breakout EP, "blkjuptr," and his first studio album, "blkswn." On "NØIR," Smino maintains the same jazzy vocals over sometimes-experimental beats, and his delivery allows the listener to feel the same way he does.
The true beauty in Smino's work comes from the contrast of generic rap subjects (save for a few love songs) against mellow beats and translated through unique and melodic vocalizations. A good portion of beats on the album, such as KOVERT, WE GOT THE BISCUITS, and SKEDOS create an ambient feel to support Smino's unique vocal stylings.
The use of a drum machine called 808s and heavy bass is further amplified from Smino's previous works, with KRUSHED ICE being composed of essentially of just a beat and an aggressive bass. TEQUILA MOCKINGBIRD is perhaps the most surprising track of the bunch, however, with producers J.L.L., Krs & DeDunamis crafting a Caribbean song that's a certified bop if I've ever heard one.
The sound he creates is intriguing, but the true power of Smino's music lies in his vocals. Smino's musical background (he was influenced by gospel, jazz, and rap) has allowed for him to develop into a truly unique artist. He hangs on syllables and at some times almost scats his lines, allowing for his already-groovy instrumentals to truly bounce. This is where his skill truly lies; his wordplay is so-so, but his ability to add emotion and meaning to the simplest of lines is one of his best talents.
While Smino does have a unique sound, I have yet to hear any true departure from his own sound. I'm intrigued to see what else Smino has in store for the rap industry, although he has yet to become a real influence yet. His tendency to shy away from sounds of the mainstream is why I, for one, enjoy his music, but it has made it hard for him to break through to the close-minded.
However, anyone who checks out the 18-song album is sure to find one song that suits them, whether it's an uptempo song that'll rattle the bass in your car or a pensive, bluesy song for a late night after a long day. It's not without flaws, but Smino's "NØIR" is a solid work that transcends the contemporary sound and resonates instead as true music, not just rap or soul.