REVIEW: 'Star Wars Battlefront II' brings movies to life through gameplay
Hang on for a minute...we're trying to find some more stories you might like.
Imagine watching speeders and planes participate in intergalactic warfare as skillful troopers and Jedi masters clash on their respective planets, all for the eternal struggle of freedom and peace in the galaxy.
No need to imagine now. "Star Wars Battlefront II" captures all this without players having to leave their homes.
"Battlefront II" does exactly what the name implies, as the players are thrown into the front lines with their favorite Star Wars characters on thirteen beautiful, well-designed maps which immerse the player into the world.
These maps are designed for many different intricate modes such as "Galactic Assault," a 40-player game mode where each team fights non-stop in attempt to complete objectives such as destroying the enemy MTT tank on Naboo, as well as many other objectives that vary depending on the map.
Another very popular mode within the community is "Heroes vs. Villains," an 8-player game mode made up of the most highly skilled heroes and villains, where each team tries to eliminate the target which is identified before each round starts.
I find myself extremely attentive in both of these modes. Without a moment to catch my breath, I'm always on my virtual toes trying to stay alive.
The heroes are by far my favorite aspect of the game, as I'm able to choose to be iconic Star Wars characters from Luke Skywalker to Darth Vader and relive the memories of watching the classic films.
The game's graphics are like none other, with absolutely stunning, accurate depictions of all the settings from the original movies. Players are able to explore regions from the powdery snow of Hoth to the blinding sand of Tatooine and are able to appreciate the amount of work the game's creators put into the intricate details.
Along with online multiplayer, "Battlefront II" also offers offline modes for a different approach to the game. Players can participate in arcade modes where they are able to customize their experience, such as the map, team size, location, and the faction they would like to play for. Arcade mode can be used to learn new mechanics of the game as well. These mechanics consist of new ways to dodge, practicing using heroes and finding the best hiding spots in the maps. Aside from arcade modes, players can take part in a short, yet interesting campaign story mode. In this mode, users play as Iden Versio, the leader of an elite imperial squadron, and play out a number of specific missions and tasks in order to move on to the next part of the epic story.
Perhaps the most infamous modification from the previous "Battlefront" to this one was the progression system and how players were able to earn and level up new characters. When the game was released there was a system in which players could use in game currency to purchase crates that contained power-ups for heroes and weapon modifications. This gave some users easy ways to level up faster, which granted them a clear competitive advantage.
The EA Community Team on Reddit claimed the game implemented the system in order "to provide players with a sense of pride and accomplishment for unlocking different heroes."
This caused outrage within the "Battlefront" players community, as people were upset because fast ways to level up could be easily purchased and nothing was being earned. Players were so mad, the infamous comment became the most disliked post on Reddit. This set back the game's popularity and development for awhile, but eventually was changed to a more stable system, where players were forced to actually work for high levels.
The "Battlefront II" community recently celebrated the official one year anniversary of the game's release and the creators have immensely improved ever since. I would definitely recommend this game to anyone who is a fan of the Star Wars franchise, as well as someone who enjoys being rewarded for their achievements through intense game play in magnificent settings.
About the Contributors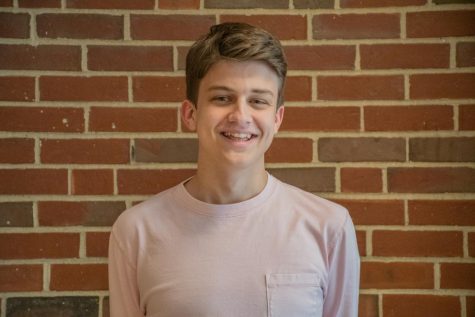 Jonny Ratner, Photo Editor
My name is Jonny Ratner and I am a senior at Algonquin, as well as one of the photo editors of the Harbinger.  I began taking photos for the Harbinger...