Holocaust survivors share experiences with students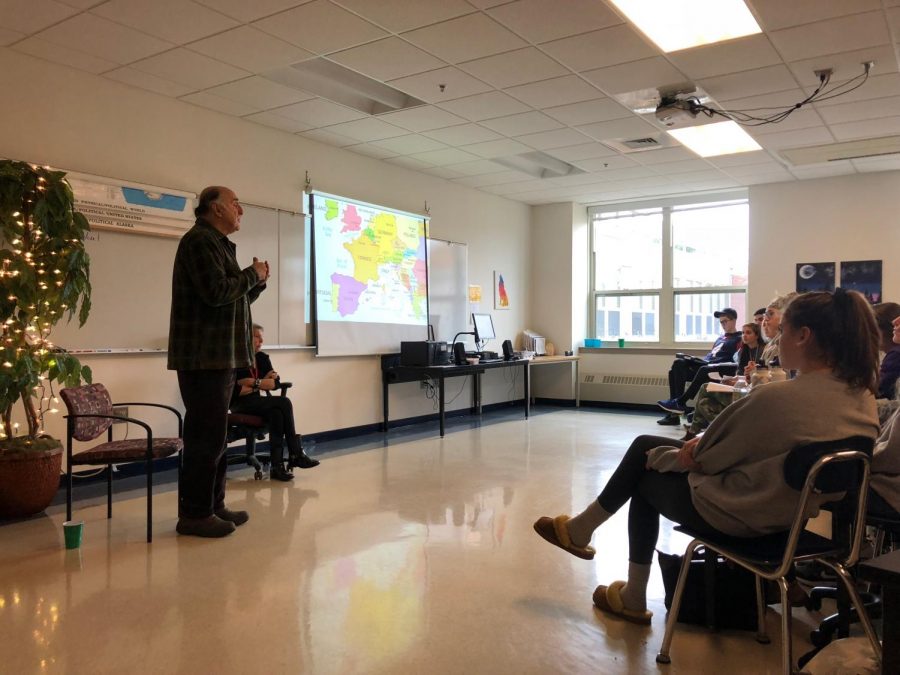 Holocaust survivors Jack Trompetter and Marika Barnett shared their recollections of living in Europe as Jews during WWII with Holocaust and Human Behavior classes on Tuesday November 27 during an in-school field trip in D113.
The event was facilitated through Facing History and Ourselves, an organization dedicated to spreading awareness about hatred and bigotry so students can take part in preventing discrimination.
"We are trying to engage students in the study of history so they can become more involved citizens and be active in a democracy," Facing History and Ourselves special projects coordinator Judi Bohn said.  
Social studies teacher Brittany Burns has been organizing this event every semester for her Holocaust and Human Behavior classes.
"The main goal, obviously, is to give students the opportunity to interact with a Holocaust survivor," Burns said. "I think that just makes the story of the Holocaust that much more real when you meet somebody who experienced it."
Barnett, 76, described living in Hungary when the German army invaded on March 19, 1944.  
"I was 10 years old and I will never forget that day," Barnett said.
Much of Barnett's parents' family was immediately taken to Auschwitz and gassed upon arrival.  Her parents were captured four times to be killed, but they escaped each time.
Barnett was sent to live with a Christian family under the alias of a country girl from a nearby village. However, Barnett explained that her cover story was an obvious lie, because she was clearly a "sophisticated 10 year old."
During this time, Barnett attempted to convert to Catholicism, but the church scheduled her Baptism for the same day as Yom Kippur, which is the most important Jewish holiday. She did not follow through at the time, but she later became Catholic after the war.
Barnett now proclaims herself an atheist after one particular experience with the church.  The Catholic school priest singled out five girls, including Barnett, as "immoral." According to Barnett, these girls were all converted Jews. She never returned to the church.
Trompetter, born in 1942, was only alive for the last two years of the war, but he recounted the traumatic effect his childhood has had on him.  As a baby, Trompetter parents made the decision to send him to live with another family, the DeGroots.
"You had to do some serious emotional juggling," Trompetter said.  "My mother was convinced to give me up because my chance of survival was greater separately."
Young couple Jan and Cor Van Domburg took Trompetter's parents into hiding, and they lived with the Van Domburgs for three years until eventually being reunited with Trompetter.
According to Trompetter, his father was later able to identify him because his parents had kept half of an article of clothing and had sewn the other half into Trompetter's baby clothes.  Trompetter's parents reclaimed him from the DeGroots, and he was hospitalized for a nervous breakdown soon after.
Both Trompetter and Barnett emphasized the effects of the choices people made, expressing gratitude for those who helped the Jewish people.
Barnett shared a story of a tax collector who used to come to their house demanding taxes from her father; if the records were wrong, the tax collector would imprison her father.  However, upon seeing her family's suffering, he began to carry out small acts of kindness.
"This little taxman heard about what happened to the Jews," Barnett said. "He didn't know what else to do, so he kept bringing us cookies, first saving our morale and then saving our lives because they were the only thing we had to eat."
Trompetter explained that the Van Domburgs were only in their 20's, yet they had the courage to change lives for the better.
"[The Van Domburgs] made it possible for my parents to survive and for me to reunite with them," Trompetter said. "It's amazing to me that people risked their lives to be upstanders to help Jews on the run."
Senior Anna Edgren, who practices Judaism, attended the field trip.  Edgren has heard many stories of the Holocaust, both in her temple and from family members who also survived the Holocaust, and she was especially touched by the speakers and the audience's reaction.
"It's definitely different being in a classroom with not just Jewish people and seeing that people all react to it differently…" Edgren said. "Knowing that other people can feel the emotions too makes it seem more hopeful that people will keep passing the stories on and it's not just one-sided. People care that [Jewish people] are getting discriminated against and that it's happening currently."
About the Contributors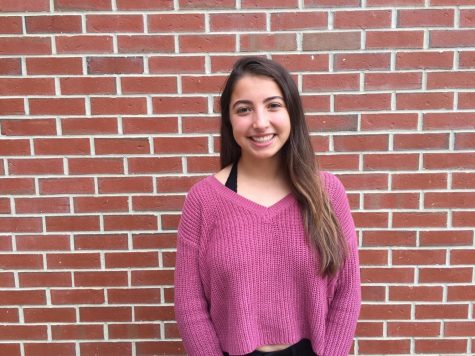 Elissa Gorman, Editor-in-Chief
Elissa Gorman began writing for the Harbinger her freshman year in journalism class. She has spent the past two years exploring news as an Assistant News...