Cheerleading places fifth at regionals, receives bid for states
After the fall cheerleading team placed fifth out of eight teams at Regionals on November 11, the team thought their season was over. However, they received a bid for States so their season lives on.
According to senior captain Julia Hostage, although they have a new and mostly young team this year, they were able to deliver a difficult routine.  
"We were able to compete our routine at its full difficulty," Hostage said.
"I think we did good, not our best performance but we were proud of ourselves and our coaches were proud of us," senior Chloe Meyer said. "Overall, it was a very successful day."
Coming from a clean routine at Leagues, this performance faced a few tumbles.
"I think we would all agree that we should have brought more energy to our performance," Meyer said. "No routine can ever be perfect, because there is always room for improvement, but we are really motivated to work hard and bring a great routine to pep rally."
"Any faults in our performance weren't the result of any one person's actions, and we really just have to accept the performance we put out on the mat," junior Nicole Howard. "Part of cheerleading is understanding that sometimes the judges only see you on your worst day, and we just have to do our best with every chance we get."
Although the results were not as great as hoped, the team looks forward to a bright future.
"I was most proud of my team for being positive about the results and supporting each other," Meyer said. "I think the most important part of being on a team is being able to be there for each other and we did a great job of that today."
"As a senior, I will not be with this team anymore," Hostage said. "However, in the future I am excited to see the freshmen and sophomores I have come to know and love grow into leaders themselves."
About the Contributor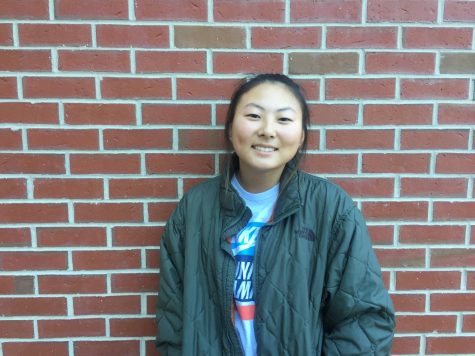 Darby Kim, Sports Editor
Darby started writing for The Harbinger in journalism freshman year. She became the assistant sports editor end of freshman year, and now she is currently...