Why we observe Veterans Day and why I will serve
Senior Allan Bramhill has enlisted in the Army and will head to basic training in Georgia in June 2019. This is the speech he gave at Algonquin's Veterans Day assembly on November 9.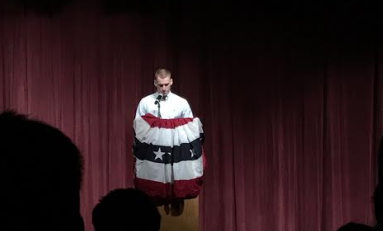 Hang on for a minute...we're trying to find some more stories you might like.
Good morning and thank you all for coming. The members of Operation Tomahawk and I have had the privilege of putting together this assembly in honor of Veterans Day this Sunday. I've been asked by many people what Operation Tomahawk does. Our goal is to help veterans and all other service members through volunteering and fundraising. We have been selling t-shirts, we've placed wreaths on veterans' graves, and hosted several pizza nights for homeless veterans at Veterans Inc in Worcester with the help of the local charity, Veteran Support Alliance. Just recently, we sent a thousand dollar check to the charity, Mission 22. We all take great pride in what we've been able to do over the past year, and it leaves us excited for the year to come.
I ask you now to please rise for the national anthem sung by Algonquin chorus members Erin Blake, Zoe Devine, Steph Kalinowski, and Alyssa Mawson.
It's no secret that everyone enjoys three day weekends. A day off from school or work is always appreciated. This sometimes leads us to forget the reasoning behind the  day off. This Sunday, November 11, we observe Veterans Day.
On the eleventh hour of the eleventh day of the eleventh month in 1918, the fighting of one of the world's most catastrophic wars came to an official end, World War I. Approximately four million U.S. men and women fought in this war, resulting in approximately 116,000 deaths. This war was fought for the greater good, the good of every country on this planet. Congress eventually deemed November 11 as Armistice Day, in order to honor veterans of World War I. In 1954 Armistice Day was changed to Veterans Day in order to honor all American veterans of all wars and peacetimes.
The reason we are able to assemble here today is because of our veterans. Veterans come from all walks of life, all classes, all races, from all across the country. Approximately one percent of the United States population has served, or is serving, in the United States Army, Navy, Air Force, Marine Corps, or Coast Guard. These men and women have been deployed across the world for months, or even years at a time, fighting our nation's wars and keeping this country safe. Even with this small percentage, every American's life has been touched by the years of service our veterans have given for us. Most of us have family members, friends, neighbors that are veterans. We owe our freedoms to them and they deserve our sincerest thanks. Veterans deserve to hear thank you every day, even if it means that we have to go out of our way to say it. This weekend I ask of you to thank at least one veteran, or even spark up a conversation about their service. Sometimes this could be exactly what they need, making their day much better.
We also need to realize the struggles that families of veterans go through. Mothers may go a year without seeing their child, children may not see their mother or father for months at a time, wives and husbands not being able to talk to their significant other for weeks. This is often painful and incredibly challenging, most of these families, although the difficulty, add to the strength of their service member and create a deeper bond.
Veterans today may face problems. The well known ones are homelessness, being unemployed, PTSD, and suffering from disabilities. But what if I told you more veterans are dying on the homefront from suicide than all the conflicts the United States is currently involved in? We are currently fighting a war against veteran suicide. And we are all losing. According to a Department of Veterans Affairs study, 22 veterans commit suicide each day. Twenty two men and women that went through unspeakable things in order to provide us with freedom. This is absolutely heartbreaking. In Operation Tomahawk, this is one of the main issues we focus on. As an ambassador for the organization, Mission 22, I find this problem to be relatively unknown.
The least we can do is to make every effort to understand and support those who we send to fight on our nation's behalf. A question that plagues our society is, how can we do this? We can start by getting rid of the negative connotations surrounding the issues some veterans may face. The words "disorder" and "disabled" are apart of this negative stigma. Many veterans diagnosed with either a disorder or a disability are some of the greatest contributors to our society. Through these things we must remember, veterans are often some of the most loyal, capable, and determined men and women of our generation. They are willing to do almost anything for those in need, yet often have trouble asking for help when they are in need. We all have the social obligation to preserve those who have sacrificed for us. We all have the social obligation to understand and contribute in a positive way to their return to a society that they would clearly give anything for. We all have the social obligation to care. Being there as someone to talk to or making donations to organizations, such as Mission 22, that are devoted to solving this crisis, are good places to start. If you remember one thing from what I have said today, remember this: 22 veterans commit suicide everyday.
In October of 2019, I will be an infantryman in the United States Army. My job description is as follows, "infantry is the main land combat force and backbone of the Army. They are responsible for defending our country against any threat by land, as well as capturing, destroying and repelling enemy ground forces." I am honored to be able to say that, and excited for the time to come.
I, along with Tony Massaglia, frequently get asked the one word question: why? We all attend a highly academic school that has the sole purpose of preparing students for success in college. People from Algonquin have gone to multitudes of colleges, from community college to Ivy Leagues. Why then would I decide to disregard this opportunity? There is no simple answer to that question. Almost every student in this room will be attending a college in the upcoming years. I understand the importance of that, and the importance college means to all of you. This being so, I hope my service will allow each and every one of you to go to the school of your dreams and live the life you desire, with the freedoms I promise you I will protect.
My passion for the military has been with me my whole life. Along with this, my intense patriotism has always been a part of me. My family history is rich with military history. My mom's three brothers all served in the United States Army, one being an Army Ranger and a Navy SEAL. One of her other brothers, my uncle Daren, was apart of a U.S. Army Airborne unit. He ended up breaking his back through a parachute malfunction. He has told me, despite his injury, the time he spent in the Army was the most rewarding and exciting thing he has done with his life, instilling even more excitement into me.
Also, throughout my life I have observed the way my father acted, from how he watched my brother's soccer games to him playing taps every Memorial Day.  A United States Marine of fifteen years, my father has shown me what it means to serve your country, not for yourself, but for the love of the country as a whole. One of the reasons I joined the United States Army is to become a man similar to that of my father. My mom and dad are both here today. I owe my parents everything;, my mom has been having a difficult time with what I am doing, as any mother would. But she is the strongest woman in my life and knows what is best for me. Their continuous support has led me to be able to do what I want to do, I am forever grateful for it, thank you two very much.
The American way of life continues to be one we all know and love. However, the way we live is never guaranteed. Without constant protection, our way of life could be extinguished. It's guarded at all hours, no matter the location, the weather, the holiday, or the price, by the United States military. This was ever present on September 11, 2001, when the Twin Towers and the Pentagon were attacked, along with Flight 93 going down. Every year since I was born I have had to watch the videos of these events happening. Every year I have thought to myself, never again. The terrors of this day led to our fight against terrorism, a fight that I will happily join. If our generation does not continue to grant the average American the protection they deserve, the American way of life will cease to exist. This being so, if I ever have children in the future, I want them to be able to live in peace, and for this, I am willing to do anything. Of course, I also want to jump out of planes and do everything else an infantryman does, because to me, there's nothing better I could ever do, and nothing as rewarding.
Nathan Hale was an American Soldier and spy during the Revolutionary War. He eventually was captured and before being hanged by the British, he stated, "I only regret that I have but one life to lose for my country". This patriotism is the same that I share, along with Tony Massaglia, here to give his reasoning behind enlisting in the United States Army as a behavioral health specialist. Thank you and remember to thank a veteran this weekend.