Stop standardizing, show the student
Hang on for a minute...we're trying to find some more stories you might like.
Grimacing at the PSAT preparation guide, my stress levels reached a new maximum as reality hit me hard that PSATs were coming up fast. Although it wasn't going to be counted as seriously as the actual SATs, it still evoked the initial worry regarding the upcoming years of standardized testing.
For starters, the prospect of sitting down and studying for yet another test is infuriating when we already have a lot on our plate. As high school students, we have no shortage of responsibilities, including but not limited to homework, sports, having a part-time job and volunteering. The overflowing list leaves little room for studying for a test that tells little about the people we are.
Indeed, standardized testing does not measure the quality of education at a school fairly. If a ninth grader has advanced a lot through the year, managing to progress from sixth grade reading skills to eighth grade reading skills, they've gone through a two year jump. However, the test does not give credit for this tremendous advancement. The school is not given credit for the advancement either. Even if the progress is shown through transcripts, these tests don't provide the district or the school with this significant information.
Standardized testing also doesn't determine what kind of person you are. These tests are given the enormous power to choose your future. High school students are led to believe that the higher you score on the SAT can determine the type of college you go to. However, reading math problems cannot tell a college who you are and how "smart" you are. Instead these test scores depend on how much time you have to study and whether you're making the best of that time.
They also depend on whether you can afford private tutors and books, and if your schools can afford programs as well. UCLA Emeritus Professor James Popham says in the journal "Educational Leadership," "If children come from advantaged families and stimulus-rich environments, then they are more apt to succeed on items in standardized achievement test items than will other children whose environments don't mesh as well with what the tests measure."
Therefore, these factors don't say anything about a person. It's quite unfair, therefore, that we're told colleges look at these scores when they can't really say anything about us.
Not only are standardized tests showcasing little about the students,  but they are also testing on very small portions. Most of these standardized tests focus mainly on math, literature, and science. But what about social studies, art, physical education, and other subjects that are given much less attention? We are told to focus more on only those three subjects. For those who want to be ambitious in fields not related to math, English, or science, this is considerably less favorable.
The opposing side may argue that colleges don't base whole assumptions on a single test score. This is true, but it makes the stronger argument that tests are not needed. There are other application materials such as transcripts, resumes, essays, and extracurriculars that colleges examine. If the test score can sway a college only little, it should be obvious that is not necessary to have it at all. In fact, according to ABC News, 27 of nationwide ranked colleges do not require the SAT. 
Although these scores can determine whether a student can receive a scholarship from the college and placement of college classes, these reasons can be invalidated because if you need a scholarship, the test can be an option instead of a requirement. Also, the placement can be based off your transcript where colleges can see clearly how your reading and math levels are at.
In the end, I do still have to get back to my PSAT preparation book, but hopefully more and more colleges and schools will stop requiring standardized testing and stop this prodigious stress on our academic lives.

About the Writer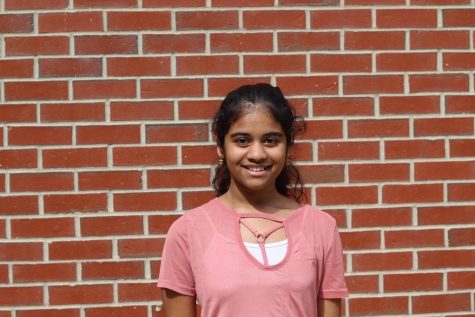 Pranitha Polavarapu, Senior Staff Writer
I started writing for the Harbinger in Freshmen year, the same year I took journalism. I'm an assistant opinion editor for the harbinger. Other than...