Beekeeping Club tends courtyard hive for honey, to end 'bee stigma'
Buzzing bees swarm in and out of a little opening in the beehive. A girl in a white suit covered from head to toe puffs a metal smoker filled with wood chips. The long white gloves and the net on the hat covers her hands and face from being stung. The smoker calms the bees as they softly buzz around her.
In the courtyard behind D100, lies the Serenity Garden where a closed wooden box stands four feet tall and contains a colony of bees. Since November 2016, Beekeeping Club founder and president senior Elsa Ray has built a colony up from scratch and maintained the survival of the colony with the help of two other co-presidents and a few additional club members.  
While more people have learned about the club's existence since its creation two years ago, not many understand what the club does and some have a stigma against bees. According to Ray, many of these bee stigmas come from fear and a lack of understanding. In an effort to change negative opinions, the club wants to bring awareness to the importance of bees.
"People think they're going to get stung, [and] that [bees] don't really matter," senior co- president Maria Tand said . "One of the goals of the beekeeping club is to end that stigma, and to really expose bees to people who haven't had the chance to before."
The Worcester County Beekeeping Association really helped bring the club's hopes of having a beehive at the school to life. The organization donated a three pound package of bees which amounts to about 10,000 bees.
Ray said that her inspiration for this club was to show people that bees are not scary and good for the environment.
Twice a week Ray goes outside, suits up and checks on the bees. Tand and senior co-president Meredith Eppen, often join her. They have to ensure they have adequate food supply and that the queen is alive and well.
"We  have to make sure they are getting enough food as a new hive," Ray said. "So we give them a fresh supply of sugar water each week to supplement their nectar. Every two weeks, we open up the hive and check on them to make sure that they are expanding properly, that there are no problems in the hive, and that the queen is still laying."
In early May, there was a problem with the hive one day where Ray was unable to locate the queen. It is crucial that the queen is always in sight because she keeps the working bees alive. Ray was forced to drive to the beekeeping facility that had donated the bees, so that she could bring a new queen. If a queen was not reinstated quickly, the entire hive would be destroyed. The presidents were able to successfully put in a new queen.  
While the hive has been installed at the school, honey cannot be extracted for another year.
"We need to make sure they have a surplus for themselves before we can take any," Ray said.
The natural honey they make has great health and environmental benefits. Ray says having a beehive at school creates benefits that are incomparable to buying honey at the grocery store.  
"The stuff you get at the store is so highly filtered and processed that the only natural ingredients in it are really only sugar and water," Ray said. "Natural honey has more components in it like pollen and bee debris, and because of that it has more health benefits. For example, honey with low-grade pollen helps with allergies because it exposes you to a low level of pollen, so it helps you build up your immunity."  
Eppen had always dreamed of having a beehive, and the club allowed her an opportunity to partake in the activity with the support of friends.
In November 2017, Worcester County Bee Inspector Ken Warchol, a beekeeper who had devoted his entire life to bees, came to speak at Algonquin to share his lifetime experience and love for bees. Unfortunately, not many people showed interest in the event.
"We actually had a speaker come in who was in his 70's and his family has been beekeeping for 5 generations. Beekeeping is in his blood basically. Seeing his dedication to these small creatures really opened up my eyes to life and how these little things can help us. Nobody came to the event, but it was such a beneficial experience" Tand said.
Ray mentioned that the club is working to bring more attention to the bees at Algonquin and tell more people about it.
"We're working with Ms. Guiguezc currently to make some kind of incorporation into the portaculture class," Ray said.
They also hope to have an event soon, open to the entire school, where more people who may be interested in the beekeeping club can come see the bees and learn more. Ray has a passion for beekeeping and wants to use her time at Algonquin to spread her knowledge about bees.
"I want to prove that beekeeping is an easy thing to be engaged in, and a good thing to be engaged in," Ray said. "Introducing it to a high school community is very important."
About the Writer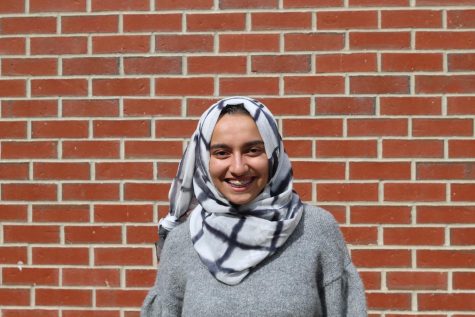 Mariam Ibrahimi, Assistant Online Editor
Mariam began writing for The Harbinger after taking journalism her freshman year. She became the Assistant Online Editor her junior year, and runs the...