Mukherjee pursues a path of political activism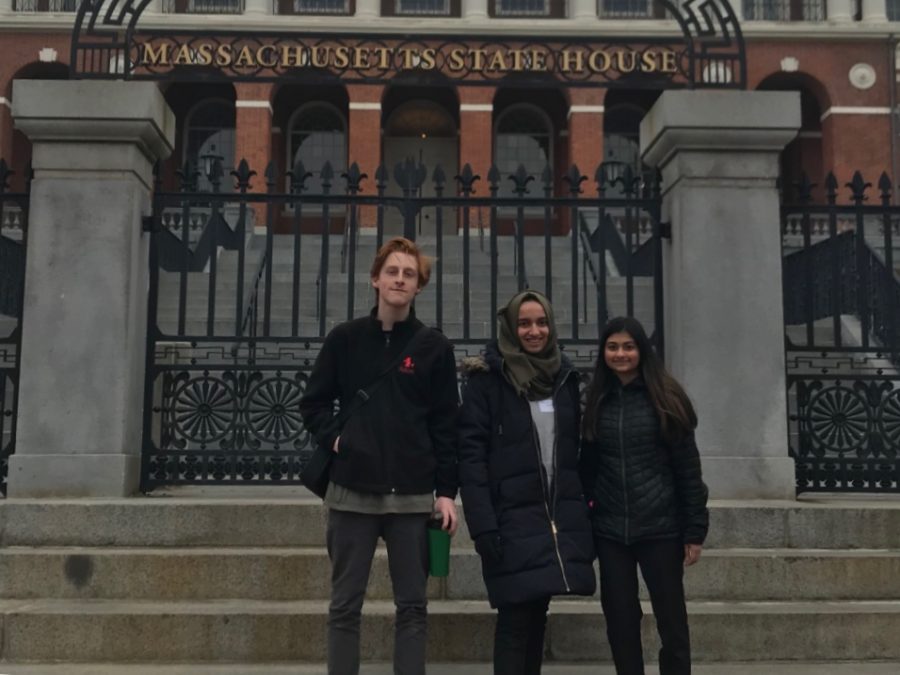 Many think of politics as an adult activity, something kids or teens can not be a part of, but junior Rianna Mukherjee is trying to change that by starting the Algonquin High School Democrats club.
Most recently Mukherjee started an Algonquin sector of the Massachusetts High School Democrats which is an organization that gives teenage democrats in the commonwealth an opportunity to create statewide projects and interact with local officials. Through this club she has done many activities involving the school such as starting the voter registration drive, which aimed to get students pre-registered to vote.
"Voting is really important for our society and more than 50 percent of our country basically doesn't vote," Mukherjee said. Getting students to vote is really easy and [the drive] is basically bringing it to them," Mukherjee said.
Since she joined Algonquin's feminist club, the She-Hawks, her freshman year, Mukherjee found a passion for public activism not only within the school, but in the local government, too.
"I think public activism is really important, especially for teens," Mukherjee said. "It's essential to get people involved at a young age: students and youth are the future. If students are involved at a young age it gives them the opportunity to speak up, we can't just have old people in our government."
Mukherjee first discovered that her love for public activism at 14 years old.
"In eighth grade I had this random epiphany that this is what I wanted to do, " Mukherjee said.
After this epiphany, Mukherjee joined her middle school's feminism club. She has always been surrounded by ideas of female empowerment, but the club gave her a space to pursue that, which carried on into high school.
Mukherjee has been very prominent in political activism at the state level, connecting with other student democrats and lobbying the Massachusetts state house for a bipartisan Civic Engagement Bill that would help students learn more about government.
"We keep advocating for this bill, 'An act to promote and enhance Civic Engagement,' which is important because right now we hardly have any civic education in our community… if you don't know about voting and the electoral college, then you might be a victim to our political system," Mukherjee said.
"What the bill would do is introduce project based learning that requires students to complete a project before graduation that has to do with civic learning," Mukherjee continued.
Junior Joe Gordon, who has been involved in lobbying with Mukherjee at the state house, believes that she has a talent for this.
"She's really been great with getting us lobbying at the state house, and I think she's just been a really strong leader for our chapter," Gordon said.
Mukherjee recently spoke at the March for Our Lives rally in Worcester.
"It was a wonderful experience; my speech was the closing speech and I felt a lot of pressure…but I said to myself 'I need to do this because we need change,'" Mukherjee said.
Mukherjee is now on the path to get an internship with democratic Senator Elizabeth Warren.
"She's a senator, and as a democrat, I feel like a lot of my values and things that I want for the country align with hers" Mukherjee said. "I get to work in an office of someone who I think is a great leader."
Beyond the internship, she definitely sees politics in her future.
"Public office is where my heart resides… I love working with people," Mukherjee said.
About the Contributors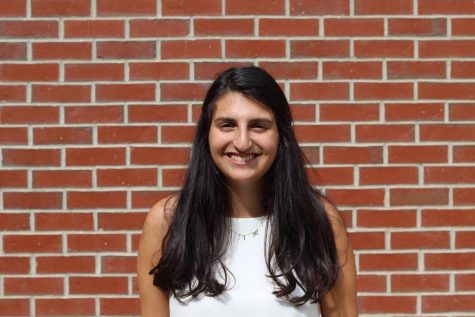 Maria Tand, Photo Editor
Maria started writing for the Harbinger in her junior year while taking journalism. She then became an assistant editor for A&E at the end of her junior...