SATIRE: Make your own Met Gala dresses with these DIYs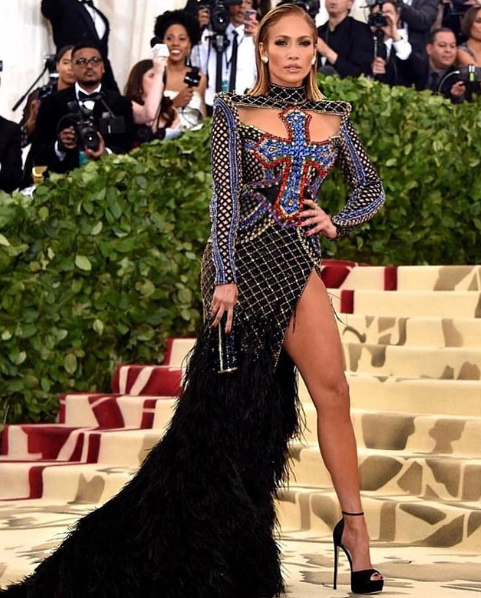 We're afraid our invitation to the Met Gala may have gotten lost in the mail, along with our admissions to Hogwarts, so we had to make do with Instagram posts. (Queen Blake Lively was definitely upset that we couldn't make it.)
Celebrities dressed as angels, stained glass, the Pope, Virgin Mary, and even Jesus appeared on this year's red carpet to heighten this year's "Heavenly Bodies: Fashion and the Catholic Imagination." theme. If you remember Kim Kardashian's bleached eyebrows in 2016 or Rihanna's enormous bright yellow cape gown in 2015, then you know what a dramatic affair this event is. The Met Gala is the most outrageous fashion event of the year.
Taking place on the first Monday of May, the Met Gala at the Metropolitan Museum of Art in New York City aims to showcase the Costume Institute's* newest fashion exhibition. The event is a fundraiser for the Met,  encouraging celebrity guests as well as aspiring artists to dress according to an artistic theme.
Like the Oscars or the Grammys, the Met Ball is a night of iconic fashion highlighted by the arrival of celebrity guests decked out in outrageous and dramatic outfits, custom-made by some of the world's most famous fashion designers like Versace, Alexander Wang, Zac Posen, Balmain, and Givenchy.  
The red carpet photos of the attendees give us mere mortals a look into the red carpet arrivals and further insight into the creative minds of globally iconic designers, some of whom have worked years to create the costumes.
The Met Ball may seem like an elite event and one might assume that it has no impact on a high school student's life, but we are here to tell you otherwise.
Prom is approaching, and those of you who procrastinated until the last minute to buy a dress or need an easy alternative for pricy dresses, we are here to help! Here are our top five picks for the best Met Gala looks, and how you can DIY the outfit at home in less than an hour!
*According to the official Met website, the Costume Institute is a curatorial department in the Met that holds more than 35,000 accessories and costumes that represent a history of clothes from the 15th century to present day from five different continent.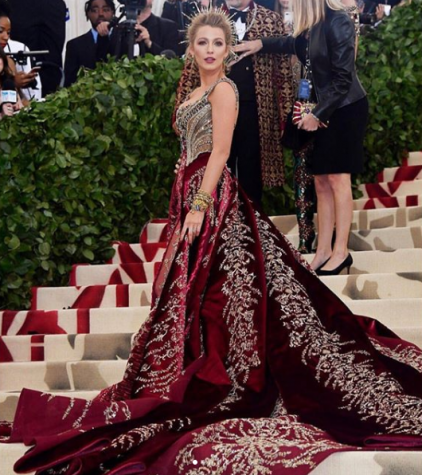 Instagram @blakelively
All hail the queen of the Met Gala! Blake Lively's grand entrance shut down the red carpet and had everyone peering over to see what the final guest of the night had chosen to wear. She sealed the night's entrances with a bang, showcasing a beautiful burgundy Atelier Versace dress with gold embroidery and a jewel encrusted bodice. And don't forget the halo to top it off.
The massive train required a party bus to fit the dress, and it took more than 600 hours of work to embroider the bodice. Every year, there is an obvious show stopper who has the other guests gasping and the media in a frenzy. Blake Lively, hands down, had the best outfit of the night.
DIY: Don't worry, it won't take you 600 hours to remake this dress. It probably won't even take you one. First head to Bed Bath and Beyond where you will be able to find burgundy curtains ($12). You will only need one panel. Drape it around your waist and loop a belt through the rings. The train is complete! Now for the bodice, find a white tank top or half sleeve shirt. For the gems, you're going to have to venture to Walmart for a box of those plastic, three- dimensional gems ($3) that you used to decorate your diary with when you were five. Using a hot glue gun (scotch tape also works in a pinch), stick those gems on the shirt. And for the best part: the halo. You will need pack of 10 zip ties ($5) and an old head band. No this is not strange at all. In fact, Amber Heard's halo was also made by zip ties. She obviously got the idea from me, but I'll spare her the embarrassment. Snap the zip ties onto the headband and paint it gold. Your Blake Lively inspired prom ensemble is complete!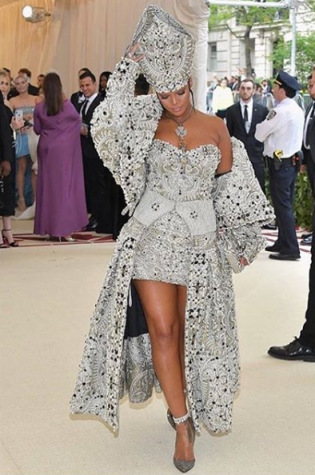 nstagram @badgalriri
 Rihanna brings it no matter what, and the Met was no exception. Rihanna's been to numerous Met Galas before and created some of the most memorable fashion moments, most notably in 2015 with a dramatic canary yellow ode to China. This year was different. Being co-chair of the gala has some big shoes to fill but decked out in a bejeweled pope hat and coat Rihanna almost put Pope Francis out of a job in this Maison Margiela number. The pope hat styled by Stephen Jones millinery and adding custom Louboutins to finish off the look in the only way possible  Everyone held their breath as she cascaded up the carpet, all staring in awe at the perfection that she gives off in every moment.
DIY: Now for those at home this look may seem hard but is actually so simple you'll be wondering how blessed this outfit can actually make you. First a paper pope hat will be essential even if it might block your prom date's head in pictures, but keep in mind we must be willing to  for fashion, right? Apply some jewels and pearls from your local Claire's onto the paper hat and remember that in this case more is more. Topping off the look is simple white trench coat (superglued black gems and white fake pearls not included) that doubles as your statement piece if the pope hat didn't already, making everyone at prom bow down to you. With this look the Vatican will be calling you asking for tips on how they can trick out their own papal attire.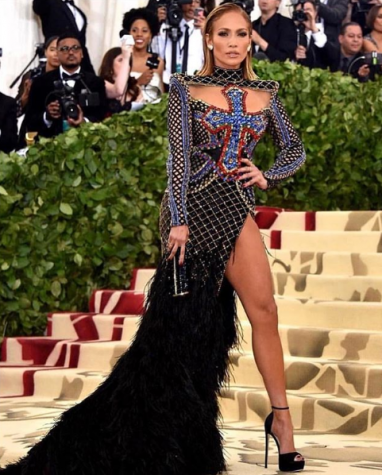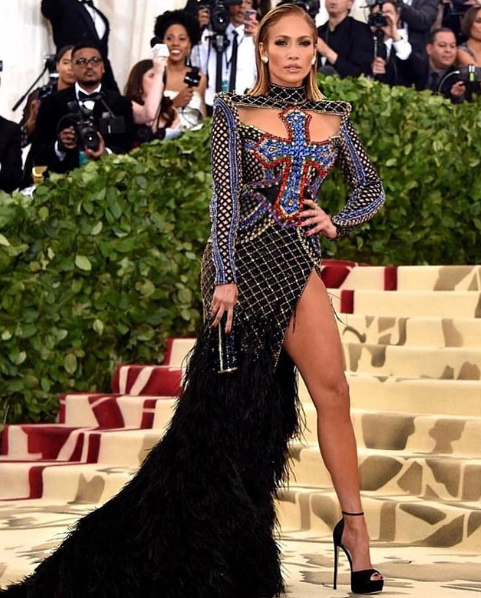 Instagram @jlo
There is no other person in this world more synonymous with glamour than JLO. Taking a different approach to the theme in this black jeweled Balmain, Jennifer Lopez had us all "On the Floor," if you know what I mean (if you don't then click here). On a similar note Lopez is known for her daring looks but she executed the theme of Heavenly Bodies perfectly while keeping to her own personal style. The high slit juxtaposed with the emblemed cross and the black feathers convey a darker side to the religion theme while looking gorgeous at the same time reminding us that Jenny don't live on the block anymore. In our books, JLO never missed a beat whether performing or looking like a boss at the Met Gala working a short slicked back hair-do that would make us peasants look like the rats that carried the black plague. All jokes aside, we give this look a solid standing, bringing the theme to light but still looking like it was made for Lopez and only Lopez. (PS: Shout Out to A-Rod for being the perfect accessory.)
DIY:  Plucking the feathers of the local road kill shouldn't be too hard, right? Well, no worries cause no birds were harmed in the making of this dress and none will in your re-creation either. A simple long black satin dress will start the look waiting for the embellishments to come. Outline the pattern in fabric marker and bejewel away adding the cross and then the rest. But remember the feathers. No roadkill searching here; instead retrieve your fake feathers from the local craft store and when you ask for black feathers like a crow disregard the weird looks from workers. They are just jealous they didn't think of this before. Slick back your hair and at prom you'll look as glowy as J-Lo herself; everyone will be wondering whether it's you or Jenny from the Block.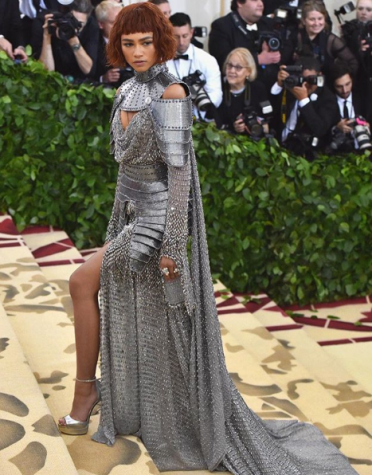 Instagram @zendaya
If there is anyone in Hollywood who could pull off a dress made of faux chainmail, it would be Zendaya. She slayed this look, giving homage to another iconic female: Joan of Arc. Decked in a custom Versace dress, the dress was complete with fashion armor around the neck and shoulders, a spiked belt, a train, and a short bob with red hair to resemble the saint. Zendaya was her own knight in shining armor on the Met Gala carpet. The dress overall was very minimalistic, but the shiny silver managed to catch the eye of many. This is one of the dresses that aren't so impressive at first glance, but after learning the creative story behind it, you gain more appreciation. Zendaya's hint at girl power from the 13th century is one that must be respected, and undoubtedly did not go unnoticed.
DIY: Do you want to dance the night away without being afraid that you'll bump into someone with your dress? This chain mail dress solves all your problems. Need to break-up a fight during prom night between two people who wore the same dress? Just stand between them and catch those punches, you won't feel a thing. In a few simple steps you can look (almost) exactly like Zendaya. You will need chain mail, which can easily be found at your local medieval castle, but if you can't find a medieval castle in your area for some odd reason, bicycle chains will work too. (A disclaimer: The chain mail is very uncomfortable and difficult to move in, but dresses are never comfortable anyway. So, you have nothing to worry about.) After carefully looping the chainmail sheet around your body, grab some aluminum foil from your pantry and wrap yourself twice. Each arm should be covered with the foil, and the torso should be wrapped as well. Now to finish it off, take some foil and wrap it around your neck to make the tight collar. Keep some chainmail loose and dangling for an even more authentic look. This dress is perfect if you want to have a safe night, or just want something simple but striking and shiny.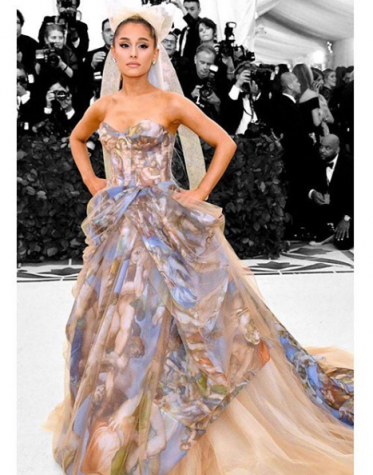 Image via Instagram @verawanggang
Ariana Grande's first Met Gala was a night to remember that certainly had "No Tears Left to Cry". In her Met Gala debut, Grande brought it full force in a Vera Wang number that was inspired by Michelangelo's "The Last Judgment" that is currently the ceiling of the Sistine Chapel. Draped in a tulle overlay, Grande floated up the carpet catching every photographers attention in the process. Imitating Heaven itself, Ariana sure has a fashion reputation to uphold for Met Galas to come, the mere thought of topping this seems impossible. The  huge tulle bow accessorized around her signature high ponytail brings Grande herself into the look while also bringing Renaissance artwork to a fashion and religious crossroad. The bow wraps up the look, resembling Grande to a present whose wrapping is way too nice to rip and stays unopened on your top shelf forever.
(Honorable Mention to Tracee Ellis Ross for looking fierce in a hot pink Michael Kors gown in the background)
DIY: Don't tell anyone, but the best way to recreate this look is probably by physically peeling it off of the Sistine Chapel ceiling. I'm sure Michelangelo won't mind. But for real, in order to strive for this look, the first step is to find an industrial grade fabric printer and if you can't, then paper will work just fine. Attaching beige tulle from the local Joann's fabric shouldn't be too hard, I mean the worst that could happen would be a little nip at the finger. In the end, this dress will have everyone wondering if they've been transported to the Sistine Chapel themselves. Onlookers will be jealous because guess who'll get the last judgement on looks that day? You!
About the Contributors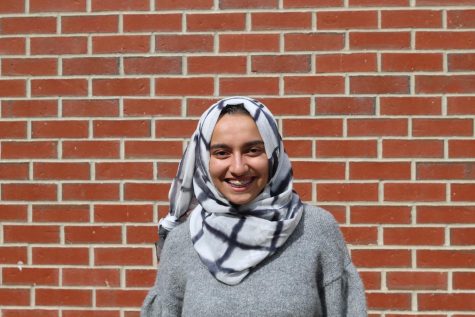 Mariam Ibrahimi, Assistant Online Editor
Mariam began writing for The Harbinger after taking journalism her freshman year. She became the Assistant Online Editor her junior year, and runs the...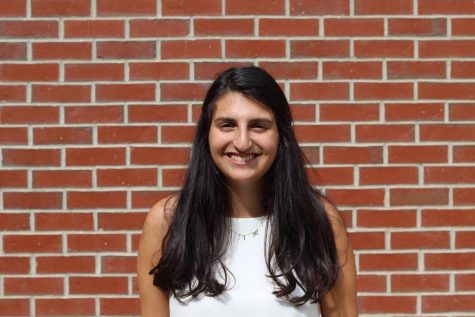 Maria Tand, Photo Editor
Maria started writing for the Harbinger in her junior year while taking journalism. She then became an assistant editor for A&E at the end of her junior...