The Royal Wedding: must watch historical moment
Hang on for a minute...we're trying to find some more stories you might like.
In 1936, King Edward VIII of England gave up the throne for an American divorcee he fell in love with. Now in 2018, we will witness a historic moment as Prince Harry will commit the same act that cost his great-great uncle the monarchy.
The royal wedding is the biggest royal event to happen since 2011 when we saw Kate Middleton and Prince William tie the knot, and it will probably be the last until Prince George's big day. We have been in a royal marriage drought, but this union between American actress Meghan Markle and Prince Harry will be a historical event more significant to royalty than people can imagine.
For years, Harry has been the bad boy of the royal family, stirring up trouble at every turn due to the fact that he has been comically referred to as the "spare heir", with William carrying most of the responsibility; You may remember Harry from the Great Naked Billiards incident of 2012 in Vegas (one of many irresponsible acts). Since meeting Meghan in 2016, he has changed for the better.
This marriage has more implications than meets the eye because a biracial American divorcee actress is entering one of the most influential families in the world (aside from the Kardashians). This marriage is turning over a new page for England and the monarchy, bringing them into a new and young age of acceptance.
I see it as an event that will be remembered in history for being the first time an American has been accepted in British royalty. This marriage is modernizing the monarchy as Harry's brother Prince William and Duchess Kate are aiming to bring youth to the title of King and Queen (Sorry Charles), while also breaking the stagnant rules of British high society that have shunned people of color since slavery was abolished.
As you can tell, I am a royal fan myself and I've come across many who disagree with my slight obsession with the monarchy. I understand the distaste, but from a historical perspective this is monumental, not just for the United Kingdom, but for the United States as well, because one of our own is now a part of the most influential family in England.
We have been watching the monarchy change right before our eyes from the moment Queen Elizabeth granted her grandson the permission to marry the woman of his dreams, even if she were divorced and American.  
You might ask why we should care about a family that some say is just for show. To that, my rebuttal is on Saturday to enjoy the event for what it is but also realize that this is the first time something of this caliber has happened in British history and to take advantage of the opportunity to witness it.  

About the Writer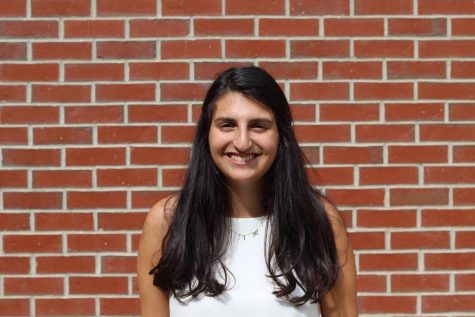 Maria Tand, Photo Editor
Maria started writing for the Harbinger in her junior year while taking journalism. She then became an assistant editor for A&E at the end of her junior...