Calnan leaves math department, becomes Technology Specialist
Hang on for a minute...we're trying to find some more stories you might like.
Math teacher Brian Calnan hopes to promote the student body's technical learning in his upcoming position as an Algonquin Technology Specialist.
Starting April 9, Calnan will be an Instructional Technology Specialist. His responsibilities will include advancing the usage of technology throughout classrooms.
"It's mostly working with the other teachers here at Algonquin to help them with using technology to support their instruction," Calnan said.
Calnan indicated that he is looking forward to helping teachers become more innovative with technology.
"I want to make sure that every teacher feels comfortable using technology more than they used to," Calnan said.
As he leaves the math department, Calnan will miss the close student-teacher relationships he has built within his classroom.
"I'll miss teaching [math] and working with students as closely as you do when you a teacher," Calnan said. "It will be different than having the same group of students for fifty minutes a day everyday, and that's really what I'm going to miss the most."
Current Technology Specialist Julie Doyle will be transitioning to the district's Director of Instructional Technology and Digital learning. Doyle leaves behind valuable advice for Calnan from her experience.
"I would encourage him to reach out to other people from other schools who have similar jobs and ask them about their experiences and to develop partnerships with faculty to better integrate technology into the curriculum," Doyle said.
Calnan emphasizes that technology can enrich learning by providing different platforms to collaborate.
"[Technology] connects you to so many other people and resources that can be really helpful with learning the curriculum [and] expanding the curriculum," Calnan said. "I also think that it just provides different platforms for students to demonstrate their understanding."
Doyle agrees, adding that technology could be the basis of modern-day communication.
"Technology provides access to all sorts of information and opportunities," Doyle said. "It provides the opportunity to connect globally."
However, Doyle acknowledged that technology can act as a barrier, preventing real face-to-face communication.
"[Technology is] a great tool, but it would never replace good teaching and communicating," Doyle said.
Both Calnan and Doyle agree it's important to balance the usage of technology in an effort to preserve the idea of living in the moment.
"Understanding when is an appropriate time to plug in, and when is an appropriate time to unplug, really separating yourself from that technology [is important]," Calnan said.
Calnan advised students "to live in the moment."
"Technology is great, [but] people are what make the world run," Calnan said.

About the Writer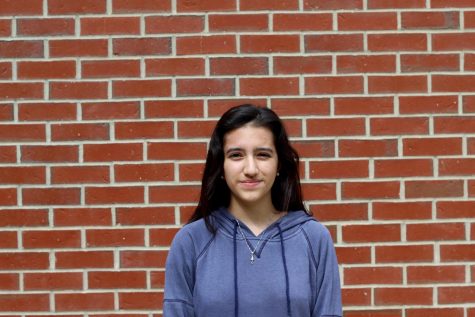 Sharada Vishwanath, Assistant Online Editor
 I started writing for the Harbinger freshman year, when I also took a  journalism class. I am currently one of the assistant opinion editors. I like...