Boys' volleyball plans for another spiking season with a new set of players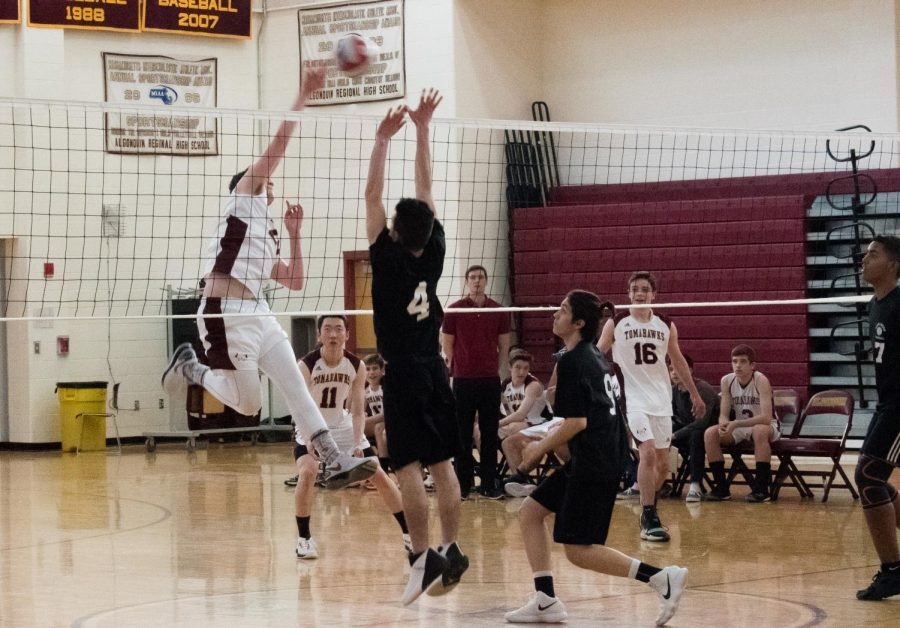 Mia McAuliffe, Staff Writer
April 11, 2018
After having an undefeated season that amazed the Algonquin community, boys' volleyball is coming back this year in full-force. Graduating nine seniors last year, a whole new team is getting ready to hit the court.
"We have a young team with a lot of sophomores," senior captain Jon Bocamazo said. "The younger players are going to have to step up this year and make up for the lack of older kids."
The boys plan on building off their past success with a goal of reaching the CMASS Finals this year as well as developing the team as a whole.
   "Winning CMASS is always the goal, but I guess starting with fundamentals, just making sure the younger players, especially the sophomores, are prepared for two more years of varsity," senior captain Alex Chen said.  
Since their freshman year, the three captains, Bocamazo, Chen and senior Ben Lee, have seen a significant increase in their numbers. By continuing to promote volleyball throughout Algonquin, the captains hope the program remains competitive long after they are gone.
    "I think a big goal for us is to set up the program to keep being a strong program for the next few years," Lee said.
Varsity coach Nick Bryant has been coaching at Algonquin for the past four years and is looking forward to the upcoming season. He sees a lot of potential in all his players and is excited to watch them succeed.
   "Individually, I want them to get a love for volleyball, and I want them to improve as much as they possibly can in the time that I have with them and help them achieve their individual goals, whatever they might be," Bryant said. "We're just going to try to use the talent we have and bring them up to the level of varsity as fast as possible."
Unlike a number of other varsity sports, Bryant chose three captains this year. He sees an advantage to having three because of the various kinds of leadership that great captains exhibit.
"Some of them are leaders on the court, some of them are leaders off the court and some of them are just really good, moral leaders who aren't necessarily vocal," Bryant said. "Typically, I take three and I think that they each have their own strengths and put together, they make a pretty good captain core."
With practice in full swing, boys' volleyball is anticipating a great season ahead and the future success for their program.
"We're awesome and people should come to our games," Bryant said. "We're going to put on a show."