Speaker Travis Roy shares story of perseverance
Hang on for a minute...we're trying to find some more stories you might like.
Travis Roy, a former Boston University hockey player who had a life changing accident in his first college game resulting in paralysis from his neck down, spoke to the freshman and sophomore classes with his inspiring message to never give up in trying to overcome life's obstacles.
Roy was a talented hockey player from Augusta, Maine who was starting his first ever hockey game for Boston University in October of 1995. Eleven seconds into his first shift, he slid headfirst into the boards, leaving him paralyzed from neck down.
"I told them my neck hurt and I thought I was in big trouble, and I was," Roy said to the freshman and sophomore class. "When I went into the boards that night I fractured my fourth and fifth cervical vertebrae from the top of my spinal cord."
After his incident, Travis felt doubtful that he would ever be able to get out of bed and face another problem in his life, when one already altered it forever. But through his own words and experiences, he hopes to encourage and inspire people of all ages to overcome whatever challenge they face in their life.
The Travis Roy Foundation was established in 1997 to assist survivors of spinal cord injuries and to provide financial aid medical research. The foundation was founded by Travis himself and his family members. In the next year of 1998, Travis Roy published the book "Eleven Seconds" focusing on his journey of overcoming life's challenges, which ultimately brought widespread attention to Travis's story. "Eleven Seconds" is about Roy's experiences, challenges and support from family members through a new depiction of his life altered forever.
Now Roy does motivational speaking at schools and events around New England and across the country. He shares his inspirational story and love for hockey with everyone he encounters. Roy motivates people through hope and independence, and loves to put a smile on the faces of everyone he meets.
During Roy's presentation, a lasting impact was made on the students who witnessed a first hand account of Roy's struggles.
"I felt like it was definitely motivational," sophomore Naomi Drew said. "He was promoting love, understanding and positivity. Just not giving up on your dreams."
Before Roy spoke, senior Shae Sibley and her father Bob discussed their own organization, Patrick's Promise Foundation, in memory of one of their family members Patrick Sibley, who in August of 2013 died after being struck by a train. Patrick was a cousin to Shae and a nephew to Bob, and was loved by friends, family and everyone he met.
The foundation supports healthy habits, physical activity, and educational opportunities for underprivileged children and young adults around the country. The Patrick's Promise motto, "I've got your back," is a philosophy that the foundation is all about, a motto that Patrick himself would use.
Both foundations seek to promote awareness towards those who are less privileged than others, and help raise money for great causes and hopes of bettering technology, equipment and the lives of those who are impacted by life changing events.
"In life there are times when we choose our challenges and other times when the challenges simply choose us," Roy said. "The question is whether we conquer the challenges life presents us, or surrender to them."

About the Writers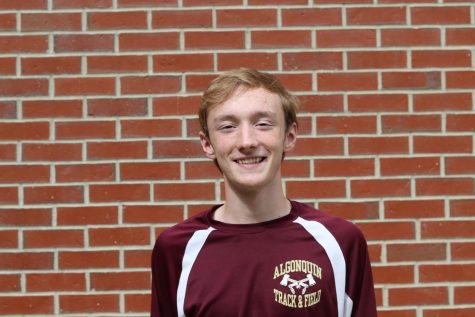 Ben Weber, News Editor
Ben Weber decided to take Journalism his freshman year and then later became the Assistant News Editor his junior year. He is now the News Editor. Ben...