National Honor Society is overrated, needs to reassess its goals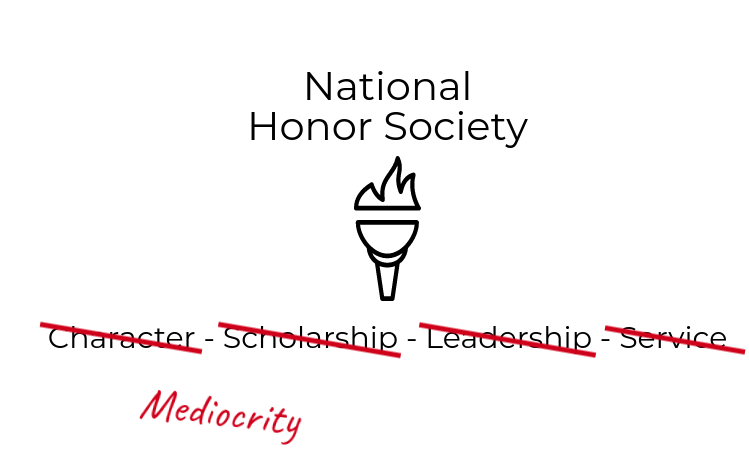 Want to further your leadership skills, get excellent college guidance and have the opportunity to give back to the community?  Then National Honor Society is supposedly for you.  A dedicated group of scholarly individuals, NHS is meant to foster leadership skills in the best and brightest high school students. However, at Algonquin this group has become nothing more than a group that a decent portion of upperclassmen obligatorily participate in for their college applications.
Here, our NHS chapter is one of the largest clubs in the school. It has roughly 100 members, meaning that roughly 14.3 percent of upperclassmen are members of this club.  While this is not a high percentage, it is still one of the largest clubs, and as most people know, it is not hard to get into. A 4.0 out of 5.0 GPA is respectable, but besides that, it's not hard to get inducted into Algonquin's NHS.  As I've talked to my senior friends in NHS and my junior friends applying, they all have told me the same thing. That even though the application process seems tedious and hard, NHS basically rejects no one. As a junior friend of mine who is applying said, it is now expected for students who qualify for NHS to be in the club; it has no special or honorary status in our school's culture.  
On that note, NHS chapters are meant to give back to their community. Through the DCF toy drive, food drives and co-events with organizations like Best Buddies, Algonquin's NHS chapter does "honorable" charitable service for our community. This work is mediocre at best, and should not qualify as what society can accept out of the brightest students in the area.  According to their website, the average chapter donates $26,000, 1,100 pounds of food and 1,161 community service hours in a year. Yes this work is great, but NHS should focus more on doing unordinary services.  Why not help serve food at a local homeless shelter, or maybe even plan an event for the kids in these shelters, or help tutor underprivileged kids? Instead NHS stresses to its members that it is the quantity of the work that you do, not the quality.
NHS also implies that work that should be done out of the kindness of your heart should be exploited for credit, even the most trivial things. This is a skill that should not be taught overall, but to what will supposedly be the future leaders of our country, that makes it even worse. Clubs like Best Buddies, Community Action Program and Steering Committee give students the opportunity to give back to their community in ways that are more in depth than that of NHS, but yet they get very little recognition in our school. If students really want to make a positive difference in our community, I suggest giving these clubs a try. They are always looking for helpful hands regardless of your GPA.  
We are told that even if we are not leaders in NHS, being in this organization will help on college applications. We inherently believe that NHS gives us a leg up over other students, but this is not true. The Huffington Post article, "Is National Honor Society Membership Worth it?" explains that colleges care more about how involved you are with the clubs you are in, not how many, or even what you are in, so get involved in what you like. Join the clubs that inspire you to get involved, and you'll be better off than doing things half-heartedly just to stay in the club.     
One look at the NHS website and it's not hard to see that they are trying to push one thing, college counseling. NHS boasts a variety of help from virtual college fairs and admissions webinars to an NHS only scholarship search tool.  However, thanks to the internet, these advantages to members diminish greatly. The Wall Street Journal article, "College-Search Quandary? There's an App for That," says that there are countless free online additions to what our school already supplies. Some are so unique that they rival what NHS offers.  Even if the help is not unique, NHS claims that their scholarship opportunities are, when they actually are not. Their system is powered by College Board, which offers its services to non-NHS members as well. Of course, NHS does claim exclusivity to some scholarships, but the internet once again comes to the rescue for those that do not have access to these elusive scholarships. Even the government has a website to help students find potential scholarships. Students are going to stress out regardless of how little or how much guidance they get. NHS can calm your nerves, but so can the thousands of other sources that have the same services as NHS's website.
Not all honor societies are bad. Our National English Honors Society chapter does a lot of community service work that relates to the English subject. National Business Honors Society connects students that share a similar ambition of business.  National Spanish Honor Society gives weekly tutoring. However, NHS is overrated, and no longer special. If we want to bring back the goal of NHS, to nurture exceptional students and give back to the community, the application process must become more selective, and community service and leadership skills must go above and beyond the easy way out, but if we choose to ignore this, then we need to stop putting this group on a pedestal.                                       
About the Contributors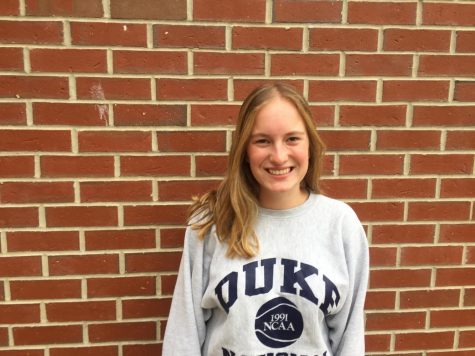 Liza Armstrong, Online Editor
Liza started writing for the paper her freshman year in journalism class after some not so subtle hints from her eighth grade English teacher.  After...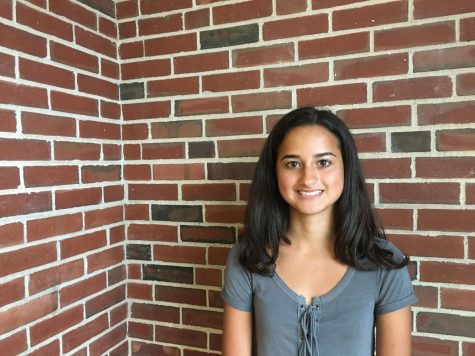 Gabriela Paz-Soldan, Editor-in-Chief
Gabriela started writing for the Harbinger at the beginning of her sophomore year through Journalism class. She is currently Editor-in-Chief.