REVIEW: New 'Jumanji' welcomes humor to the jungle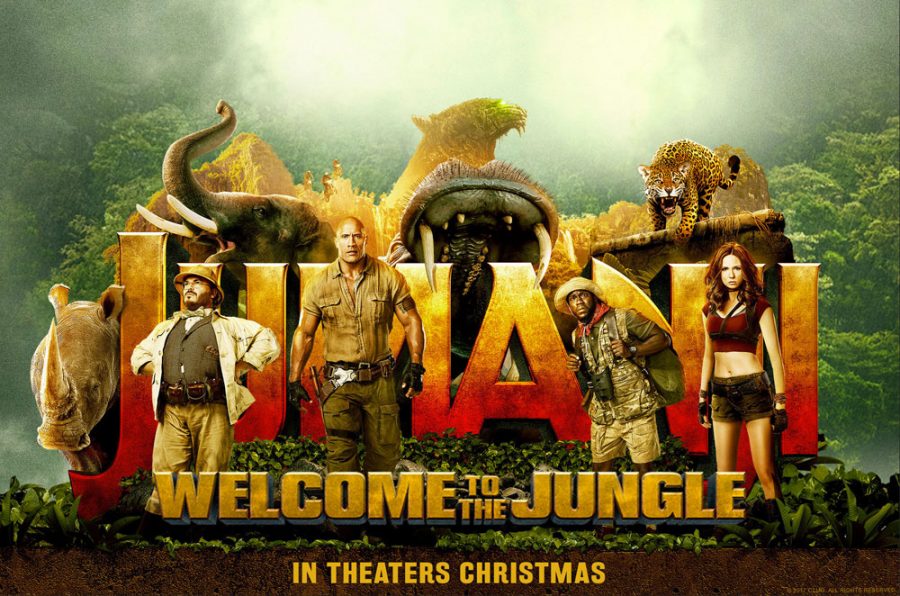 A new "Jumanji" adventure welcomes you into a jungle of dramatic teenagers that become a part of a video game in the remake, "Jumanji: Welcome to the Jungle."
An old video game console draws four teenagers to the jungle setting, the teens literally becoming the avatars they chose. The teenagers discover that they don't only have to play the game, but they have to survive it. They have to beat the game and return to the real world by going on the most dangerous adventure of their lives, discovering what Alan Parrish left to 20 years ago. They have to change the way they think about themselves to survive, or they will be stuck in the game forever.
Dwayne Johnson plays Spencer's avatar, a tough archaeologist and muscular explorer named Dr. Smolder Bravestone. Bravestone's strengths are courage, reflexes, climbing, smoldering and boomerang throwing. Johnson's character becomes an intelligent and courageous hero of the story. Johnson taps into his inner child, and performs as a scared young boy who adapts to becoming a man and protector to get everyone home.
Jack Black plays Bethany's avatar, Professore Sheldon "Shelly" Oberon, a cartographer, cryptographer, archaeologist and paleontologist. Oberon's weakness is endurance due to his weight. Black's performance is hilariously amazing, as he portrays Bethany as Oberon in the best way. Bethany adapts to Oberon's body, and struggles with the loss of her phone, which causes her to become one with nature.
Karen Gillan plays an elite martial artist dance fighter who becomes Martha's avatar, Ruby Roundhouse. Roundhouse is proficient in karate, tai chi, jujutsu, and capoeira, and her only weakness is venom. Roundhouse, similar to Bravestone, becomes the video game's heroine. Martha connects with Roundhouse, where she uses her avatar as an advantage to come out of her shell while in Jumanji.
Kevin Hart plays Fridge's avatar, Franklin "Mouse" Finbar, a short zoologist and weapons carrier for Bravestone. His weaknesses are cake, strength and speed. The relationship between Finbar and Bravestone evolves throughout the film. Both characters (also as avatars) were distant in the beginning, creating a love/hate relationship over jealousy. While in Jumanji, the characters realize they needed each other, making their relationship stronger in the end.
Nick Jonas makes an appearance as Jefferson "Seaplane" McDonough, a mysterious adventurer and pilot. McDonough is the avatar of Alex Vreeke, who had disappeared 20 years before Spencer, Bethany, Martha and Fridge became a part of the game.
Jake Kasdan directed the hysterical adventure, which was released in theaters December 20. The film is a tribute to the late Robin Williams, star of the 1995's original "Jumanji."
"Jumanji: Welcome to the Jungle" uses its appealing cast to add a humorous twist offering a funny, family entertainment production that you must see.