Gallery of the Boroughs hosts Paint Night
The Gallery of the Boroughs hosted their first Paint Night in the cafeteria on December 14, where students of various grades and skill level came to paint a winter scene while drinking hot chocolate with their friends.
Art teacher and Gallery of the Boroughs adviser Danielle DeCiero explained her goals behind Paint Night.
"The first [goal] is for people to enjoy making art because I think if you enjoy it, even in a casual atmosphere, you can learn to appreciate it," DeCiero said. "The second is, some people still don't know we have a gallery in this building."
She hopes that with the event being held by the Gallery of the Boroughs, there would be more of a correlation for people. The last goal is the fundraising aspect. The money from the event will go to beverages and foods for their gallery openings and closings.
Seniors and event planners Bridey McGlynn and Tatyana Kennedy had been planning Paint Night for over a month.
"It was fun to just…plan out the painting," McGlynn said. "I painted it and then Taty was taking notes and stuff because we had to figure out, for the instructions, how much time it took for each thing and step-by-step."
"I think [the event] was really good, even though it wasn't a huge crowd," Kennedy said. "It was a lot more intimate than having a lot of people and I like that just for our kickoff."
Senior Atira Cheney signed up for the event due to her love for painting and said that she would come to the event again.
"It was an overall ten out of ten," Cheney said. "There was really festive Christmas music playing in the background which made it really enjoyable and I enjoyed the food."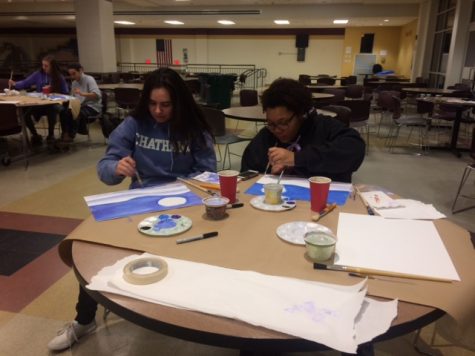 The semester class behind the Gallery of the Boroughs is called "Business of Art Through Gallery Management" and is a brand new elective this year. When the semester ends, the Gallery of the Boroughs will turn into a club every other Tuesday after school.
"We had the show that was done by Kate Kalinowski and Kira Porter a few years ago…where they reached out to a really wonderful artist…and that was so successful that it kind of really stemmed my desire to turn it into more of like a class where kids are reaching out to artists and finding things that are interesting to them," DeCiero said.
"Art is more than just making art," DeCiero said. "It's appreciating it, it's putting it out there in the world, it's putting it in galleries in museums and stuff. So, I wanted to tackle that in this course."
Kennedy and McGylnn both think highly of the new class and would recommend it to other students.
"If you're a people person…or if you wanna try and broaden your people skills, it's honestly a really good class because we have a lot of interactions networking with artists," Kennedy said.
"If you're one of those people who likes planning things like a party," McGylnn said. "We do a lot of 'Ok, what do we need to do to publicize this event? What food should we bring?' It's kind of Pinterest-y and that's fun."
The Gallery of the Boroughs is hoping to do more paint nights in the future. In the meantime, check out the gallery, join their club or talk with Deciero in room C201.