Daring dogs dive into the world of theatre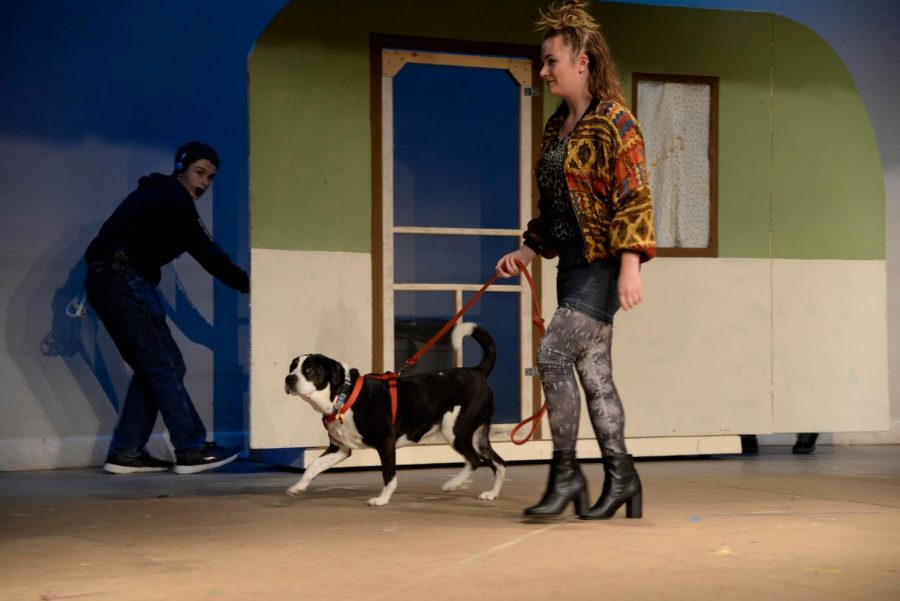 Yorkshire terrier Stella and American mutt Bruno delivered stellar performances in "Legally Blonde". Yet while both dogs made adorable additions to the show, their backstories are shockingly different.
Born as a purebread on December 30, 2015, applied arts and technologies teacher Nicole Ruffo's dog Stella was destined for greatness.
"Stella is a diva: a real Hollywood actress," Ruffo said. "She only wants the best. She drinks Evian water, she eats caviar, and she wears Michael Kors jackets – a real diva."
On the other end of the spectrum, Latin teacher Angela Moll's rescue dog, Bruno, had more humble beginnings.
"When we first got him he had had some abuse," Moll said. "He was kicked as a puppy… He walks a little crooked. He had been flea infested, and he wouldn't let us touch him. He was never mean, but he was cautious because people had been mean."
Despite a shaky introduction to life, Bruno was able to overcome his past and develop into a kind and loving pet.
"When humans and animals are shown kindness, they reciprocate" Moll said. "And he gradually reciprocated more and more to the point where now he is a magnet."
Students who worked with Bruno can testify to this magnetic quality.
"Bruno is one of the greatest dogs I have ever met: 11 out of 10 pets," junior Max Petrie said. "Even after 'Legally Blonde', he was in the auditorium giving people pets. Or rather, asking people to pet him. Such a good dog. I appreciate Bruno for being there for me."
According to Ruffo and Moll, the animals appreciated the students as well.
"Every time I took [Stella] out of the car she ran to the back door of the band room because she knew that she was going to get treats and that everyone was gonna play with her," Ruffo said.
"A dog can sense good people and the kids were fabulous," Moll said. "You could see his love of them because they had treats in their pockets, but also because they knew what they were doing."
The show itself was largely successful, although Stella did make a few small errors.
"It was hard for [Stella] to share the stage with other stars, since she is such a diva," Ruffo said. "She made a few mistakes, so she really got humbled during that process. Most of the students that are in this musical are professionals, I mean they are unbelievable, so they helped her drop down a few pegs and kept the show running smoothly."
Bruno delivered a flawless performance, which may be a result of his calmer attitude.
"Even when Stella was barking at people, Bruno remained calm and nice," Petrie said. "He bowed on stage, he got his own little moment. That dog made 'Legally Blonde' a good show. Without that dog, I wouldn't have even done it."
Both Ruffo and Moll are proud of their pets' accomplishments. Moll felt especially touched to see Bruno on stage because of how much he had overcome after being abused as a puppy. She advocates that students look into Algonquin's Helping Paws club, as they are centered around helping animals like Bruno.
"Bruno is a perfect example of a dog who was discarded as a puppy," Moll said. "They just need to be shown a little bit of respect and love, and they really do become part of your family. So it was a very proud moment to have my son on stage, right up there with Connor Macchi."
About the Contributor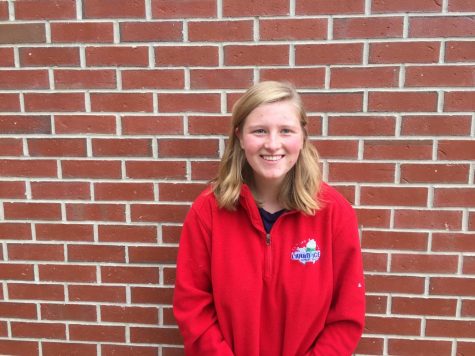 Maggie Del Re, Editor-in-Chief
Maggie was unwillingly thrusted into journalism class freshman year due to a scheduling snafu. Already a passionate writer, she quickly fell in love with...