Strickland: from robotics mentor to applied arts teacher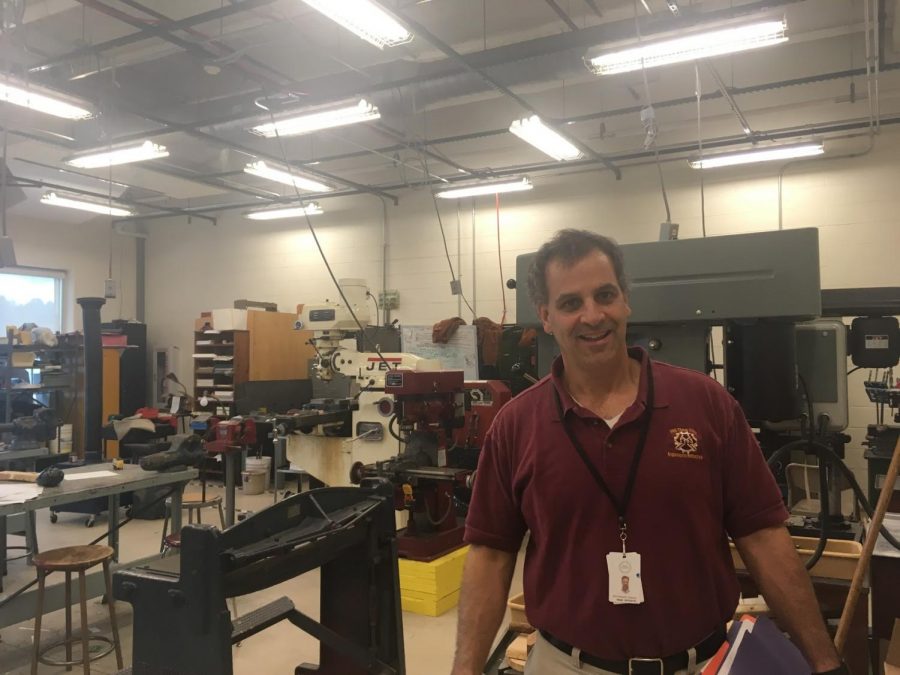 New applied arts and technology teacher Dan Strickland is not only an enthusiastic teacher, but also is continuing his role as a mentor for the Algonquin Robotics Team 1100.
Before Strickland supervised  the robotics team and taught in the classroom, he was an engineer.
"I was an engineer for a long time and then I transitioned into teaching after doing years of robotics," Strickland said.
Transitioning from a middle school to a high school environment, Strickland said he enjoys teaching and working with students every day instead of once a week. Strickland worked in Melican Middle School last year as a technology education teacher.
"In Melican [Middle School] you only saw [the students] once a week and it's very difficult to know all the students, but now that I see them every day it's really good," Strickland said.
Strickland believes that applied arts and technology department is useful because of the real world application and hands on experience.
"As an engineer, I see the benefit of doing things with your hands and understanding a little bit about applying some of the stuff you learn in class," Strickland said.
Strickland became interested in teaching after hearing about his wife's teaching experiences.
"My wife was working in the school system at Proctor Elementary School for a long time," Strickland said. "Seeing or hearing her experiences helped me lean towards teaching and working with students."
Strickland said he got into robotics through his son's elementary school experiences.
"My son was in Lego robotics, which is the smaller thing for middle and elementary school, and then I actually found out about [team 1100] through a parent that was involved with it," Strickland said. "I didn't know much about it, but I just started to do it. Immediately, it was something that I was interested in."
Senior Mohan John has been on the robotics team for four years and enjoys working with Strickland.
"I like the enthusiasm and energy he has for [robotics]," John said.
Strickland is looking forward to teaching classes and mentoring robotics this year. He said his transition is going smoothly and he looks forward to an exciting new school year.