Sainsbury travels to Philadelphia on mission trip, continuing love for service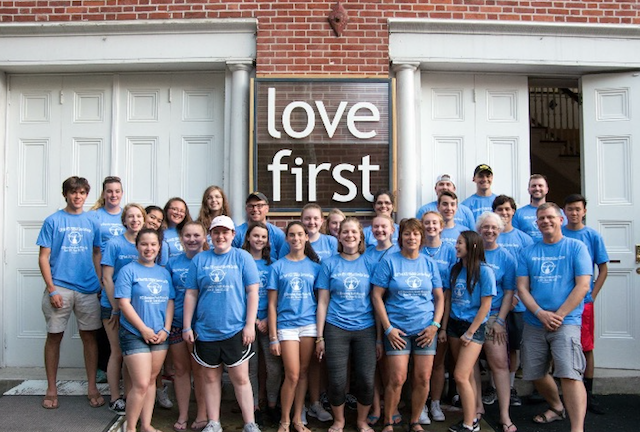 Sainsbury travels to Philadelphia on mission trip, continuing love for service
Hang on for a minute...we're trying to find some more stories you might like.
Senior Chloe Sainsbury spent a week of her summer volunteering in the impoverished neighborhoods of Philadelphia and working on several community projects with other church members.
Sainsbury and the members of the First Congregational Church of Shrewsbury helped by serving meals at a soup kitchen, planting flowers at a community garden and packing boxes of food.
"Many of the people we worked with were very thankful and it showed that our help really meant something," Sainsbury said.
Senior Grace Keller, a long-time friend of Sainsbury, recognizes Sainsbury's devotion to mission projects and volunteer work at her church.
"Chloe volunteers in different places a lot, and it is an important part of her life," Keller said.
Sainsbury has been on past mission trips to more rural areas, but her most recent  trip was much different due to its location.
"I have volunteered in upstate New York and Maine," Sainsbury said. "These were very rural environments and I wanted to see poverty and other problems in an urban setting."
Sainsbury's favorite project on the trip was packing boxes of food for the elderly.
"We had an assembly line going that was very efficient," Sainsbury said. "We worked for a few hours and packed around one thousand boxes."
Sainsbury valued the people she met and the relationships that have come from this trip.
"The friendships I made with other youth group members were really strong on past mission trips, so I wanted to spend more time with them and make new relationships," Sainsbury said.
Keller also noted the importance of the friendships that Sainsbury  formed with the people she worked with in Philadelphia.
"Chloe is very close to the other teenagers who also volunteered [in Philadelphia] and still talks with them on a daily basis," Keller said. "The trip brought them together."
Sainsbury was shocked by the number of families affected by the intensity of poverty in these neighborhoods. .
"It was really an eye-opening experience," Sainsbury said. "I did not realize that there was poverty that extreme here in the U.S."
Sainsbury plans to continue volunteering with her church to help those who are struggling.
"I want to help out again in the future and experience more of the problems in the world," Sainsbury said.