New football head coach Allen promotes improvement, teamwork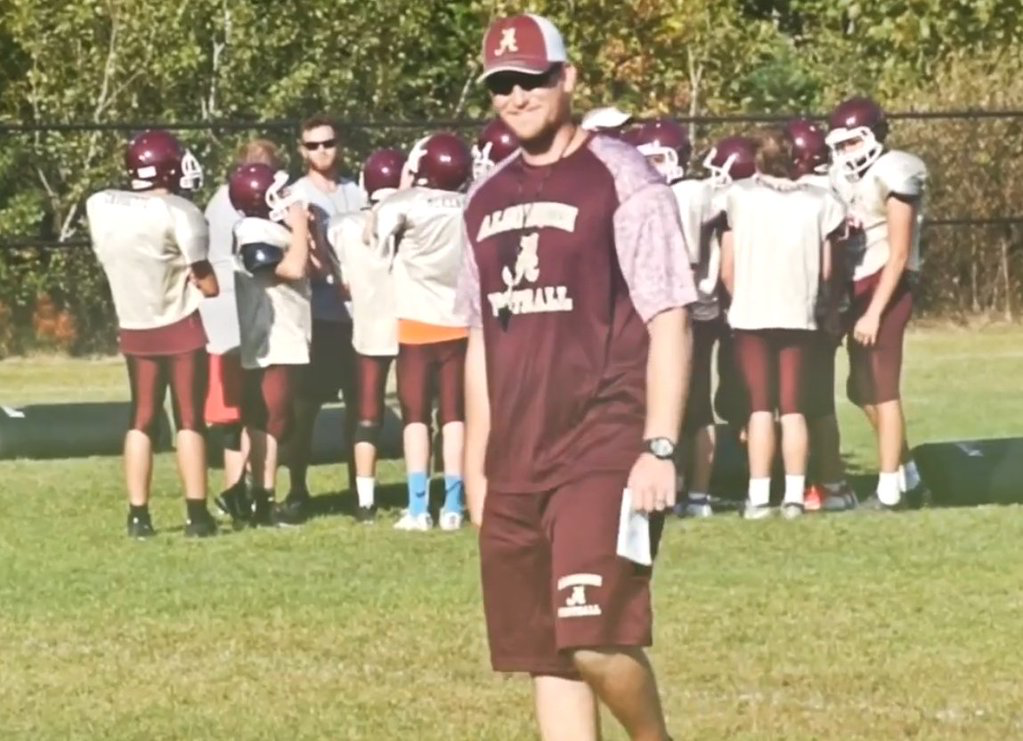 With leadership being passed on to new head coach Taylor Allen and the loss of 22 graduated seniors, the football program is in the midst of reform. However, the team still has their sights set on a strong season.
Former head coach Justin McKay resigned his position to coach St. Peter-Marian High School's football team, which left the program trying to rebuild and adapt to the changes. Former assistant coach Allen was chosen to fill McKay's shoes and hopes to lead the tomahawks to a successful season.
"[I have been] learning from the people above me in previous years, taking what they did right and some things that they did wrong," Allen said. "I'm taking advantage of the opportunity of being in the leadership role I am now and implementing some different things and our own twist to how we run the program."
As a special education aide in school during the day, Allen is able to connect with other members of the Algonquin community beyond the football program.
"I am a special education aide, so I'm around the building in different classes," Allen said. "I'm all over the place so it's good because I get to have an impact on a lot of students around the building."
Allen has a long history with football; he played for Westborough High School and has been an assistant coach at Algonquin for two years.
"[Westborough is] our rival, so it's fun to coach at Algonquin knowing that in the past I used to hate Algonquin," Allen said. "Now I'm a T-Hawk for life, so maroon and gold is in my blood and I wouldn't have it any other way."
Several players have caught Allen's eye from the beginning of the season. Senior Hayden Kea has been excelling as starting quarterback, as well as senior captain John Polymeros, who plays running back and receiver.
Polymeros, who leads the team with senior captain Ryan Courtwright, feels the team has reacted well to the changes from past seasons.
"The majority of our players worked with [Allen] last year on the JV and varsity level," Polymeros said. "We all fit into his program well. There's been a lot of changes, but it's going awesome and everyone on the team loves it."
Alongside senior players, Allen is thankful to have younger players who have stepped up to the challenge of competing at the varsity level.
"Rio Ferguson is a freshman, and he's doing good, and Chris Pacios is another freshman we called up," Allen said. "It's exciting to have young guys step up and fill in the blanks sometimes."
Ferguson feels honored to be chosen to play at the varsity level so soon in his high school career.
"It's really special [to be pulled up to varsity as a freshman] because it's been a really long time since someone has gotten pulled up," Ferguson said.
Both Allen and his players see one ultimate goal for the season that they are confident they can reach.
"We want to be at least a 500 win-to-loss team, which means we want at least five wins," Allen said. "We have one right now, so we need four more and I think we can do it."
"Everyone is working together and working really hard to get some wins on the board," Polymeros said. "We have a very tough schedule this year, so it would be awesome to go for that five win mark."
Polymeros believes that the team will be able to win four more games with the support of T-Hawk nation behind them.
"Compared to other schools, the student section we get is awesome," Polymeros said. "It's great going out on Friday nights and seeing the whole school out there supporting us."
The next football game is away against Nashoba on Friday, October 6.
About the Contributor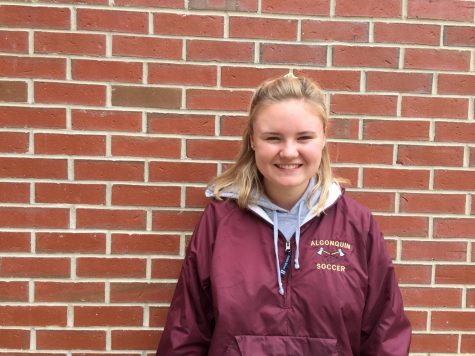 Paige Morse, Editor-in-Chief
Paige Morse began writing for the Harbinger during her freshman year. She has written many A&E pieces, but dabbles in sports, news and opinion. Outside...