Ducks of Algonquin ruffle feathers of mystery throughout halls
Video Cassidy Wang

They have rested on the cafeteria ramp, floated in the art hallway, peeked around the band hallway, and hid in the D100 ramp. They may not quack, but the mysterious Ducks of Algonquin have gotten people talking and ruffled some feathers of intrigue.

Since early March, Friday mornings have involved students searching for duck photos on the wall and "adopting" a rubber duck of their own.

Two anonymous students, "Donald" and "Daisy Duck," founded the Ducks of Algonquin project to brighten students' school days and spread awareness of art and the environment.

"We are both very interested in art and we wanted to do an art project that would get all of the school involved and represent our art and how we feel about the environment," Daisy Duck said.

The students chose to use rubber ducks as the focus of their project because of a chance encounter with a claw machine full of rubber ducks.

"We were at a McDonald's gas station and there was a claw machine with all these ducks in it," Donald Duck said. "We did the claw and pulled out a flower duck and started taking pictures with that, and since we already had those pictures we used ducks [for the project]."

The ducks were hidden in the halls below a photo of a rubber duck for students to find every Friday. Both interested in photography, the students hoped to motivate people to take photos of their own once they successfully found a duck.

"We would hang up a picture to go along with the ducks, and then the next day when people came into school anyone could just take one," Daisy Duck said. "Our one rule was that they had to go somewhere outside or anywhere interesting or cool and get a picture of the duck and send it to us through our email."

The Ducks have received dozens of photo submissions to their email ([email protected]) which they print out and hang up around the school.

Their Thursday night preparations for Friday were unlike those of the average student.

"On Thursday nights we would run around Algonquin placing ducks everywhere," Daisy Duck said. "Janitors loved it."

Because so many students actively participated in finding the ducks, the Ducks recently ran out of their rubber duck supply.

"We used them for three or four weeks and then once they ran out we were done with [the project]," Donald Duck said.

The Ducks have yet to decide whether or not they will resume the project in the fall, but they are satisfied with the impact it has had on the school community so far.

"[We want to] brighten people's day," Daisy Duck said. "Everyone loves seeing some ducks on the walls."

Juniors Claire Duffy and Evan Burstein found rubber ducks on the D100 ramp on March 24, and it made their days instantly brighter.

"I thought [the project] was really interesting, and when I actually found one I was really surprised and happy," Duffy said. "It lit up my day."

"It was fun and exciting to stumble across the ducks in the hallway," Burstein said.
About the Writer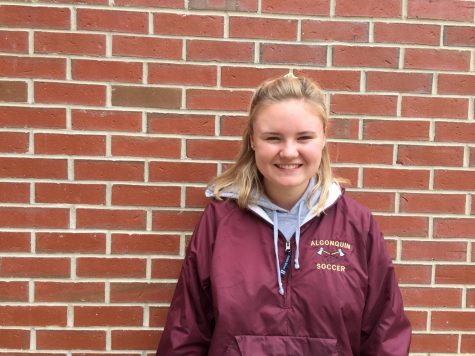 Paige Morse, Editor-in-Chief
Paige Morse began writing for the Harbinger during her freshman year. She has written many A&E pieces, but dabbles in sports, news and opinion. Outside...