Undefeated girls' track feels underestimated despite hard work
Hang on for a minute...we're trying to find some more stories you might like.
Although girls' track is a prominent sport competed in by many with various athletic capabilities, it is also one that is often underestimated by many in the student body.
There may be no cuts, but those that participate are on the team for exercise and an opportunity to be a part of a bonding experience like other sports offer.
Senior and captain of the long sprinters Zoe Chang expressed that a number of people belittle those who put a lot of hard work and effort into the sport. She believes track is not thought of as important compared to the other spring sports.
"Athletes do work hard [at track] and people should respect that," Chang said.
Through their current undefeated record, the athletes prove that the misconception of track being a school sport where slacking off is accepted, is not true.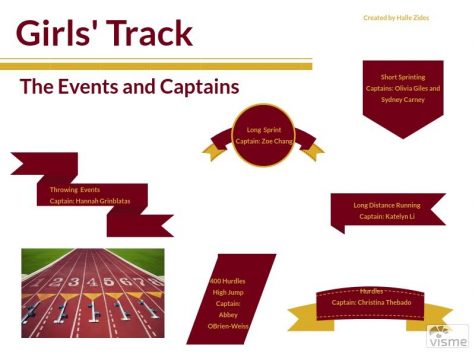 Infographic Halle Zides
Chang said that even those who are on the team may not take practices or even meets seriously.
"A lot of people on and off the team take it as a joke," Chang said.
Chang expressed that track is not taken as seriously as sports like lacrosse or baseball. She mentioned that like other sports, track is not physically easy, but unlike some other sports, it is also mentally challenging.
"The hardest part of track is making it through the race, and the mental aspect of it," Chang said.
Senior and captain of long distance runners Katelyn Li agrees that a very hard part of track is the mental endurance.
"Finding the motivation to push yourself harder even when your lungs are burning and your legs are heavy with lactic acid really requires a lot of willpower," Li said.
Senior and captain of the throwers Hannah Grinblatas agrees that this misconception regarding track exists, leading many athletes to think they can slack off.
"Some people think they only have to do one event, but coaches push for athletes to try other things too in order to learn what they are truly good at and what they are not as good at," Grinblatas said.
Chang expressed that some girls sign up for track with the belief that it will be easy, and will not take up much of their energy and time. This misbelief may be what has led to the number of team members decreasing by 30 percent since the beginning of the season.
Many people underestimate the amount of skill and technique that goes into track events.
"Some people may think that throwing events take pure strength, but there is a lot of technique that goes into throwing too," Grinblatas said.
The team has competed in multiple meets and has an 8-0 record.
"So far, over 30 girls have scored in varsity meets, which is nice," Chang said.
"There are a lot of underclassmen who are killing it this season: sophomore Tess Reyes, and freshman Karmyn Shreeve are already big scorers for our team," Li said.
According to the team's "fan page" on the Algonquin website, the team is lead by seniors Li, Christina Thebado, and Chang, juniors Erin O'Reilly, Sydney Carney, Rosa Daeipour, Caleigh Donovan, and Hannah Hu, sophomores Reyes, Laura Dunderdale, Alexia Austin, and RaiAnn Bu, and freshmen Karmyn Shreeve, and Elizabeth Meschiesen .