Boys' tennis swings for championships after big win early in season
The boys' tennis team, which sits atop Mid-Wach A with a 7-0 league record (13-2 overall), is on the road to championships after beating the defending State Champions, Westborough, 3-1.
For the past four years, Westborough has had an overwhelming amount of success; this year, however, the loss of valuable Westborough opponents allowed for the team's victory.
"We didn't lose any of our top seven players and Westborough lost several of their top seven players," coach Gerald Cushing said. "They still are very strong, and they provided a very competitive match."
According to senior captain Ian Kim, who plays either first or second singles, in addition to the change in makeup of Westborough's team, the doubles teams are critical to achieve success.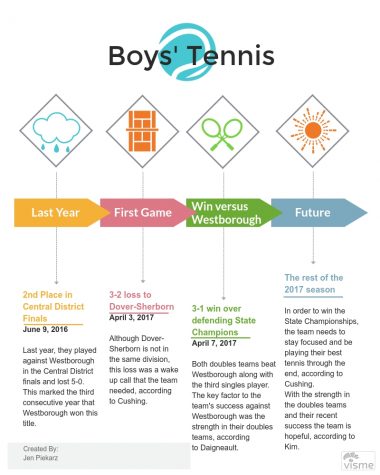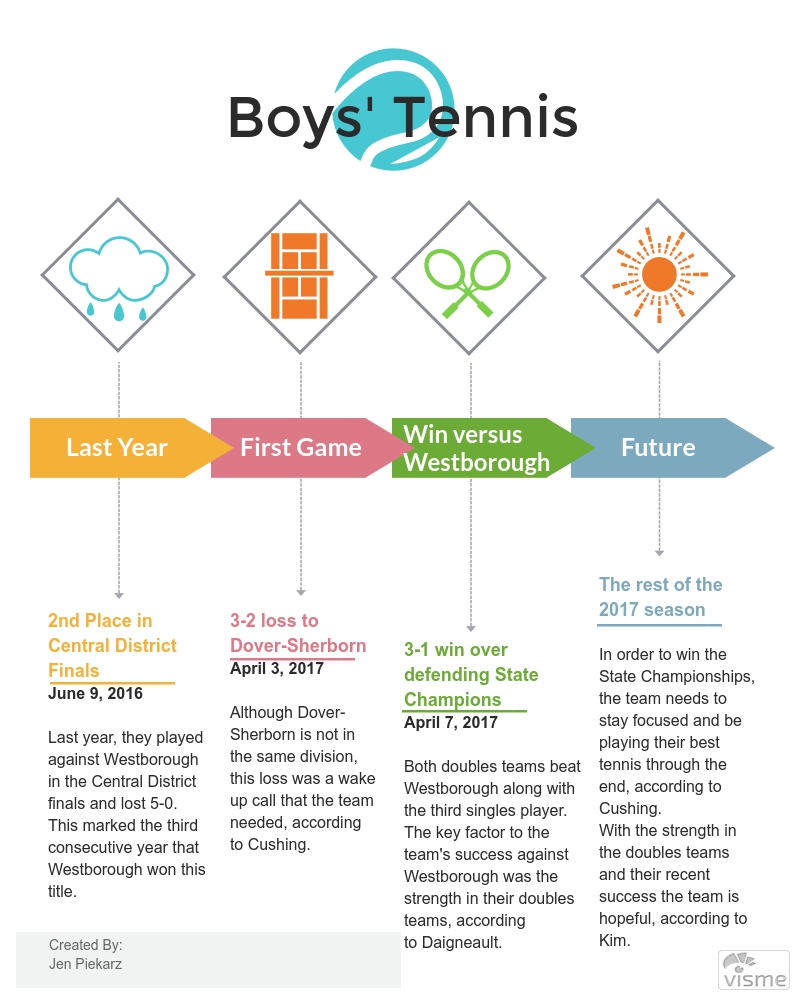 Graphic Jen Piekarz
"We needed those doubles wins really badly if we really wanted to be CMass competitors for [the] championship, and they did it," Kim said. "Without those four on those spots we really would've not have been able to get the win."
The first doubles players are sophomores Andy Zhao and Riyan Farhat and the second doubles players are junior Will Koziel and senior captain Alex Daigneault. Both doubles teams won their matches along with third singles player, sophomore Christian Jorgensen.
The team was overjoyed with their long-awaited triumph over Westborough.
"We've never beaten Westborough and they were always trampling us and they always seemed so cocky about it, but beating them was just a really happy moment," Koziel said.
With the growing strength and success of their team, the boys are hopeful for the future matches.
"We're going to keep fighting," Kim said. "We've always kind of been second to Westborough and this first match against them kind of proved that we're big competitors for the championship."
In order for the team to make it to the championships and potentially win, Koziel hopes they will stay focused and not let the victories distract them.
"Right now we're on the path for the title, and I don't think we're going to stop," Kim said.
With their eyes on the State Title, they're also looking even further in the future.
"We want to make sure there's still that chemistry there for the lineup to keep going and the competition between the players is still really important because they need to realize that they have spots next year and they need to push themselves to try to go for those spots," Daigneault said.