Saeed reflects in powerful new album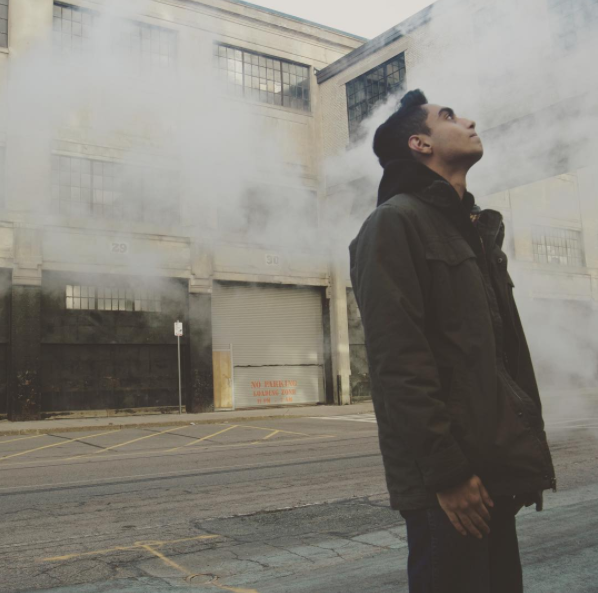 Mia Mcauliffe, Staff Writer
April 11, 2017
Hang on for a minute...we're trying to find some more stories you might like.
To some, music is just something to enjoy often, but to junior Ali Saeed, music is a way of life. Also known as the rapper Word Problems, Saeed's hobby of music has grown into a passion for making it.
So far he has released two albums on SoundCloud: 'The Coming of Age,' and his newest, 'Objects in the Mirror Are Closer Than They Appear.' Released on February 28, Objects contains 13 tracks filled with powerful lyrics that convey a strong message.
"The whole album is really just me looking in the mirror and analyzing myself," Saeed said. "I found out stuff about myself that I never really knew by looking into that mirror."
"
I want people to bond over this. I want to be a positive figure that people can look up to."
— Junior Ali Saeed
Saeed spent part of last summer vacation in Pakistan with his family, which is where most of the album's songwriting took place.
"I was there for five weeks and it was five weeks of absolute torture," Saeed said. "I remember sitting in a hot room, venting on my notepad about much I hated being there."
Upon returning, Saeed started producing his own beats and putting his second album together. He wrote all of the lyrics and produced almost all of the beats for Objects. His older brother, Abdullah Saeed, who is a producer and host on Viceland, is very proud and impressed with how much Saeed has accomplished.
"I've tried to be a guided source about producing, but it's always been mostly Ali," Abdullah said. "He still has maturing to do, but as a person and an artist he's on a great path to be something."
Saeed's interest in music inspired him to do what he loves most, while also spreading awareness of mental illness and its effects.
"I was suffering from anxiety and depression." Saeed said. "There are so many people who suffer from this and it needs to be spoken upon. Hip-hop music doesn't speak up on that often, and I don't think mental health is as regarded for as physical health is."
Saeed intends to continue making music not for just his pleasure, but for his listeners as well. He hopes to one day make a career out of his passion for music.
"I want people to bond over this. I want to be a positive figure that people can look up to" Saeed said. "I made this for people who are suffering from anxiety and depression.To any kids, any adults who out there suffering, I will tell you we're all gonna be alright."
Saeed plans to have an EP released before the summer and another album ready by next year.