Opposites attract: couple is four years strong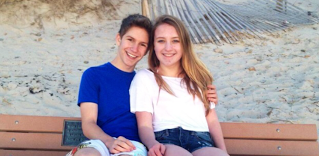 After meeting in the percussion section of marching band freshman year, seniors Renee Lamy and Jaron Holmes began dating and to this day continue to uncover secrets to making their almost four-year high school relationship last.
For Lamy and Holmes, the conjoining of towns for high school resulted in meeting the person who they would share a long term relationship with: the classic Northborough-Southborough love story.
After their first date to the movies to see "Last Vegas," the couple spent more time together, becoming best friends, too. This friendship led to less pressure and more strength in their relationship, according to Lamy.
"I want to be with him and when something good happens, I want to tell him first," Lamy said. "It's easy, it's not forced."
"
We are polar opposites."
— Seniors Renee Lamy and Jaron Holmes
Lamy fell in love with Holmes's kindness and sense of humor while he admires her caring nature.
"I have an unparalleled admiration for how she will take in others and care for them," Holmes said. "Everyone she's ever met means the world to her."
Due to their differences of interests and political opinion (she is conservative while he is liberal), the couple has learned some major lessons, including compromise and patience.
"We are polar opposites," they said in unison.
After many disagreements, they now avoid discussing politics, even though Lamy maintains that her conservative views are a large part of who she is.
In the beginning of their relationship, the couple said classmates felt negatively towards them, possibly due to jealousy or immaturity. This caused Lamy and Holmes to avoid broadcasting their status.
"Up until junior year, it was bad," Lamy said. "I wouldn't talk to anyone about him."
Later, they realized that keeping their relationship private was one of the keys to making it last.
"The thing that's helped us the most is we keep our business, our business," Lamy said. "When we fight, I don't go rant about it… I don't feel the need to share our every move with the world. We are who we are and that's it. Every problem is between us."
Senior Bec Marder says the couple changed his idea of high school relationships.
"I always viewed high school relationships as very stupid and dumb and pointless… but then theirs lasted four years," Marder said. "That's not stupid or pointless."
As for college, Lamy and Holmes are going see what happens with their relationship, understanding that staying together will not be easy.
"At the end of the day, we want to do what's best for each other and our relationship," Lamy said.