REVIEW: "Woman in Gold" tells tale of justice, history, compassion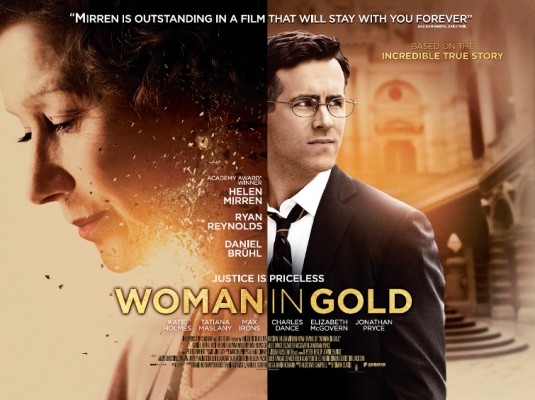 Hang on for a minute...we're trying to find some more stories you might like.
Follow the true inspiring story of two unlikely friends who join together to fight overwhelming odds by taking on the Austrian government to recover artwork that was unrightfully taken by Nazis in "Woman in Gold."
This 2015 PG-13 historical drama directed by Simon Curtis, which is available for order on Netflix and streaming on Amazon (both approximately $10), begins in the late 1980s when Maria Altmann, played by Helen Mirren, asks a scrappy young lawyer for help in attempting to reclaim beloved art pieces painted in the early 1900s.
Lawyer Randy Schoenberg, played by Ryan Reynolds, decides to accept the request of attempting to go against Austria's art restitution board. Their feat is more difficult than they first anticipated, as they find out the most desired painting of Altmann's dear Aunt Adele is now considered an integral piece of Austria's national identity.
The challenge progresses as a series of flashbacks play throughout the movie showing the difficult past of Altmann's refuge from Nazi rule. At the same time, Schoenberg learns a lot about his famous composer grandfather's past, and his own Austrian heritage. A lawyer who thought he was doing it for the money ends up disregarding the value of the painting, and helps the case due to the horrors the Nazis inflicted on Altmann and thousands of other families like hers.
The relationship between Altmann, an elderly woman living in L.A., and young rookie Schoenberg grows to great heights as the audience is thrown into compelling twists and turns of the difficulty of their task.
This film is outstanding. Not only is the plot line fascinating, and the actors excellent, the picture is beautiful. Each scene is done in an artistic manner. The streets of Austria, actually filmed in England, are beautifully portrayed and the flashbacks from the 30s are crafted elegantly.
The picture speaks for itself: happy scenes dance in color and serious ones zoom and play in dramatic angles. Although the script great, the actors' characters are revealed just through the subtlety of expression on their faces and their interactions with their surroundings.
"Woman in Gold" is a touching film that entertains with warmth and humor, while teaching viewers something about history, law, and justice. With enormous heart, subtlety, and compassion, a brilliantly-acted and skillfully-written "Woman in Gold" is simply outstanding. I highly recommend it to anyone.