REVIEW: 'Manchester by the Sea': poignant tale of loss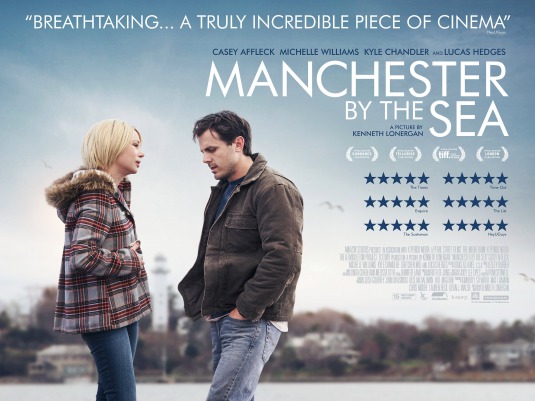 Hang on for a minute...we're trying to find some more stories you might like.
If you liked the Boston spirit and Affleck acting in "Good Will Hunting," Casey Affleck's poignant new film, "Manchester by the Sea" directed by Kenneth Lonergan, is for you.
The story centers around Lee Chandler (Affleck), a maintenance worker in Quincy, haunted by his troubling past in the small Massachusetts fishing town, Manchester by the Sea. Chandler finds out early on in the film that his brother has passed away and left his son, Patrick (Lucas Hedges), for Chandler to care for.
Both Affleck and Hedges gave outstanding and touching performances–trust me, when Patrick cries, you will cry–and played their working-class Massachusetts roles flawlessly. Michelle Williams of "The Great Gatsby" and Kyle Chandler of the television series "Friday Night Lights" also shined in their roles, each portraying their most vulnerable self.
One of the best things about the film is the fact that each of the characters is objectively flawed while at the same time evoking sympathy from the audience, creating a realistic story which can be hard to find in film today.
While the theater consisted of elderly people except for my sister and me, it is a moving production and can be easily enjoyed by teenagers as well as an older crowd.
"Manchester by the Sea" does cover mature topics such as drug and alcohol use, sex, and death and is rated R. In fact, it contains a great amount of swearing, too, so be warned if these elements bothers you.
The only part of the movie I disliked was the ending, but it grew on me the more I pondered it. I won't give anything away, but it may leave some viewers dissatisfied. Overall, though, I fell in love with the film and it's now one of the best movies I've seen.
Don't be surprised when this film wins many an Oscar, as it up for several of the awards including Best Picture, Best Original Screenplay, and Affleck is nominated for Best Actor.
If you ever want to walk into a theater and cry your eyes out with a room full of random strangers and feel that sort of intense solidarity, "Manchester by the Sea" is the perfect emotional film for you.