Richardson builds business based on passion for pets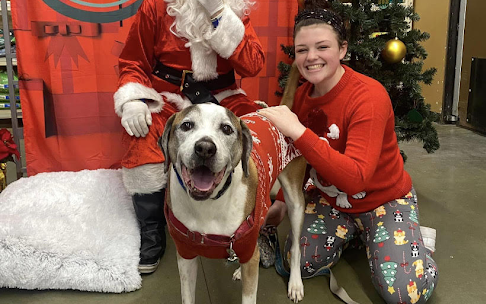 Senior Audrey Richardson's pet sitting business encompasses many of her favorite activities including photography, business, marketing and spending time with pets.  
Richardson, a proud owner of a 7 year-old boxer named Sparrow, has loved dogs her whole life, but was always disappointed she couldn't get a second dog. In seventh grade, Richardson's neighbor asked her to watch their dog and it was then that she decided to become an entrepreneur and create Audrey's Pet Sitting. 
"That's when I officially said that this was a business I want to create," Richardson said. 
Richardson has created an efficient process with her clients. Once people hear about her, if the client's pet is a dog or cat, they set up a meet and greet at the client's house. During the session the pet(s) get to meet Richardson and they see if they can work together. 
"You want me to be safe, and you want the animal to be safe," Richardson said. 
Richardson has had about 30 clients and she usually works with them over the summer, when she has more time. If the client is on vacation, then she will sleep over at their house. 
Richardson's business has not only given her more time to spend with pets, but also brought with it the opportunity to expand on her photography and marketing skills through her business's Instagram account, @audreys_petsitting. 
"I love animals, I love business and marketing, and I love photography, so I kind of mixed it all in," Richardson said. 
In order to become a pet sitter, Richardson gained multiple certifications, one being her Fear Free Certification (FFC), which allows her to help with anxious dogs. According to Richardson, after the pandemic, more and more dogs have struggled with anxiety, including her own dog, so being FFC certified was really important to her. 
"I really want to help animals, not just the typical easy going animals," Richardson said. "I like to get the animals that, you know, are a little misunderstood. I feel like I have a special place in my heart for animals like that, especially rescues."
Richardson is also Red Cross Cat & Dog First Aid Certified, which teaches techniques such as CPR, how to handle wounds and how to handle a situation if a dog or cat isn't breathing. 
"There are a few things that I have always been worried about. One is if a dog is chewing on a ball and they choke on it, I would be prepared to handle that situation but I hope I never have to handle it," Richardson said. "The second would be if a dog bites another dog's ear because ears bleed so much. I would be able to get the bleeding to stop but I just would not want to do that."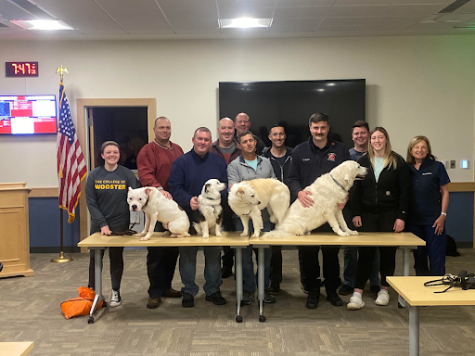 Richardson completed these certifications in Science teacher Dan Welty's Innovations class. The class provides students with a class period to learn about whatever they wish to learn. If there is a subject Algonquin doesn't provide, students can pursue it in this class. 
"Something that I push with everyone in [the class] is making connections," Welty said. "Getting outside the four walls of Algonquin." 
Richardson embraced making connections by not only developing a website and making business cards, but also by being the first person to go on a one person field trip, in her case to Tufts Veterinary Hospital. One of Richardson's friends is a veterinarian, and she had access to EMT training for animals at Tufts, where she got hands-on learning with injured dogs in the workforce. Richardson was featured in part of a NBC Boston channel 10 segment on the training event. 
"I thought that was super cool, a one person field trip," Welty said. "…This class affords someone that opportunity that they wanted to do that. She was the first person to do it. She will always be my model."  
Richardson believes the field trip was a good learning experience.
"I was around very intelligent people and it was just awesome to get to learn from them," Richardson said. "Everyone was super nice and super helpful.…There were so many awesome parts to the field trip because it was just a bunch of people coming together to help create this change." 
As with every business, there are highs and lows, and one major low for Richardson is when the pets pass away.
"There was one dog, actually the first dog I ever watched, the one that started it all," Richardson said. "It passed away last year, and that was really hard."
Richardson is unsure if she will continue the business after high school, but she does know one thing. 
"I definitely, no matter what, will have two dogs, because my parents still haven't let me get a second dog," Richardson said.