Sophomore leads fundraising efforts for Ukraine with help of Student Council
Sophomore Sasha Sheydvasser, along with Student Council, helped raise $3,471 to help support Ukrainian citizens during the Ukraine-Russia conflict. 
Sheydvasser has a personal connection to Ukraine, which played a role in her decision to start this fundraiser.
"My family is from Russia; my mom and dad's friends live in Ukraine," Sheydvasser said. "I saw what was happening, and I could not stand on the sidelines. The [Ukraine invasion] is an important issue that I must act upon." 
Student Council member sophomore Cassie Melo helped Sheydvasser with the endeavor, along with other Student Council members. 
"Sasha reached out to me and had an idea to help raise funds for Ukraine; they were curious to see if the Student Council could do anything to help with that [Ukraine fundraiser]," Melo said. 
When the ideas merged, Sheydvasser and the Student Council started to make their plan. Eventually, Sheydvasser started advertising for the fundraiser and created posters with the help of Melo and the Student Council.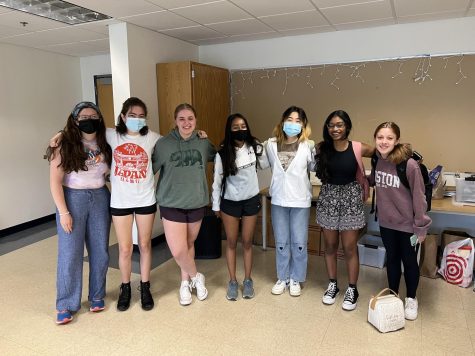 "I invested my energy during every single lunch that I could to come to the [fundraiser booth]," Sheydvasser said. "I made sure there was space in front of the cafeteria and made posters that were hanging in the hallways." 
The Student Council used social media to help spread the word about the fundraiser. Sheydvasser also gave out pins with the Ukrainian flag colors she made herself to students and faculty who donated to the fundraiser and supported the cause. 
"[Principal Sean Bevan] came up with the idea with the pins,"  Sheydvasser said. "My mom, dad and I created the pins by using the pin machine at the school."
Sheydvasser believes it is very important to help people across the world. The initial amount collected was multiplied by a factor of four due to a matching donation from her father and an additional matching donation from his employer, Autodesk.
"Donations are the least we can do," Sheydvasser said. "They're helpful for [Ukrainian citizens] and could be put into good use."