Rotational bell schedule to stay the same for second semester
Editor's Note: This article was published before the ARHS administration announced the adjusted bell schedule for Semester 2. The adjusted schedule, which maintains the existing order of periods but alters their lengths, can be found in an email sent to all students from Assistant Principal Cathleen Carmignani on Thursday, Jan. 27.
This year's new rotational bell schedule will remain the same for the second semester, aiming to provide some stability during a turbulent year. 
The new bell schedule, which was implemented this year, consists of periods three through seven rotating every day and classes ranging from 40 to 60 minutes long. There was discussion of changing the bell schedule for the second semester, but due to the mass amount of changes this year has brought—largely because of COVID-19—the administration has decided to keep the schedule the same. 
"We came to understand that teachers didn't want more changes in a year of massive upheaval and that isolating some variables to keep things the same was probably more beneficial than employing a new bell schedule entirely," Principal Sean Bevan said. 
Assistant Principal Cathy Carmignani conducted a faculty vote and found that roughly 70% felt they did not want the schedule to be altered for the rest of the year. According to a Harbinger survey of 127 students from Jan. 2 to Jan. 5 through Google Forms, 84% of respondents agree with or feel neutral about the decision to keep the schedule the same. 
"Everyone is trying to deal with everything, and I think people are finally used to the schedule and they want to be able to give the kids and themselves some stability," Carmignani said.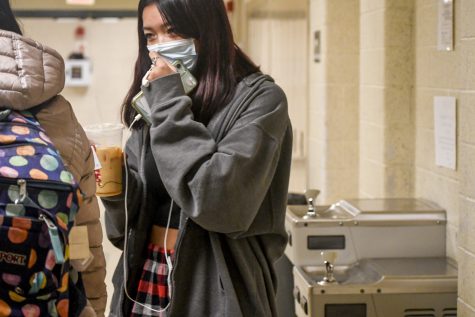 In the original process of creating the schedule, Carmignani and Bevan worked closely with teachers to assemble a wishlist of their priorities, which included 60 minute periods and rotation. They developed a couple different schedules and then brought them to the Site Based Leadership Team (SBLT) for feedback. Then, the faculty was asked to vote on their favorite. 
Although this year's bell schedule does not contain 80-minute doubles like the pre-pandemic schedule did, some classes are still 60 minutes long, which can provide enough time for lengthier activities. However, the lack of doubles means that every class meets every day. 
According to the survey, 72% of respondents said they like that there are no doubles like there have been in the past. Also in the same survey, 76% of respondents dislike that some classes in the current schedule are 60 minutes long, which shows that many students are not fond of long classes. 
"I did not like doubles at all, so I'm really glad we got rid of them," senior Alison Hojlo said. "I think generally I like this schedule better because I like the 40-minute periods."
Although there are many benefits to shorter periods, classes ranging in length from 40 to 60 minutes can pose an issue for teachers who teach multiple classes of the same course. 
"It is a little tricky when your two periods of the same course don't line up for testing and for activities," math teacher Karla Reynolds said.
Science teacher Chrissy Connolly agreed that the varying length periods is a little complicated, especially when it comes to tests. 
"A lot of times if you are teaching the same class in different periods, you want to have the test on the same day, but then one class period might have 55 minutes and the other may have 40, and obviously you don't want to penalize the class with 40 minutes," Connolly said.
In the new schedule, periods one and two alternate being first each day, but they are always the first two periods and do not rotate throughout the day like periods three through seven do. This was designed so part-time teachers can have the first two periods off. 
"I think it would help if periods one and two moved as well; it might make a little more sense," Reynolds said. 
However, according to both students and teachers, the rotating periods three through seven create some change in what would otherwise be a repetitive week, and they allow teachers to see their students at different times every day. 
"People really wanted rotation because seeing seventh period at the end of every day sometimes can be detrimental to those kids," Carmignani said. 
Looking ahead at next year, the administration hopes to revamp the schedule and address teacher and student concerns. The process for creating the new schedule will be similar to how the current schedule was made, but will include student voices as well. Also, the administration is contemplating doing a pilot attempt of a few schedule options followed by a survey of student and teacher opinions. 
"Schedules are tricky things; they always have been and there is no singular schedule that every high school can agree on," Bevan said. "That is why every high school has vastly different schedules. It is a challenge to get the right schedule, and that is what we are in the middle of trying to do."