Xu runs Boston Marathon to support autism community
Senior Enchee Xu ran the Boston Marathon on Monday, Oct 11. to raise money for the Doug Flutie Jr. Foundation for Autism, a local non-profit organization that helps individuals and families affected by autism live life to the fullest.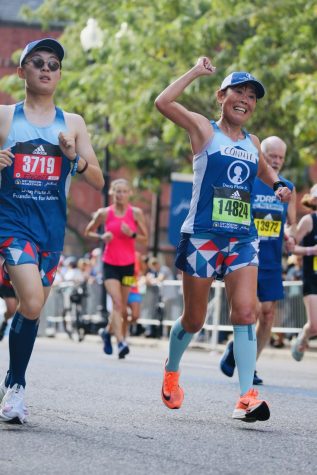 As Xu was diagnosed with autism at the age of 3, he and his mother, Connie Cao, knew they wanted to run to support the autism community. They reached out to the Boston Athletic Association (BAA), the organization in charge of the marathon, to find a group to run with. It was BAA employee Jack Fleming who referred them to the Flutie Foundation.
The marathon, which normally takes place on Patriots' Day in April, was moved to Indigenous Peoples' Day due to COVID-19. Xu and Cao ran together for the entire race. 
"It's a huge advantage being able to run with my son," Cao said. "At the very beginning, Enchee helped me. Enchee is a very rational person, and he knows if you run fast at the beginning you're going to get exhausted."
Xu also felt that his mom was able to support him during the race.
"My mom helped me get good nutrition throughout the race and made sure my legs didn't cramp too much," Xu said.
Both Xu and Cao ran for Dougie's Team, the Flutie Foundation's official running team, and raised a total of $18,800 for the Foundation through their marathon fundraiser. Mike Palmer, the captain of Dougie's Team, noted how Xu and Cao's strategy of running together was extraordinary.
"It's really cool to see them run together throughout training and then actually run the marathon together," Palmer said. "Most of the time, you try to run with the same people through the entire process but when it comes to the marathon, it never works out. So it was cool to see them start together, say they're going to do it, and actually do it."
This was Xu's first marathon, but he has spent the last couple of years working his way up to this. Cao was confident that they would both be able to finish.
"Enchee's endurance level is high, and my gut told me he could do it," Cao said.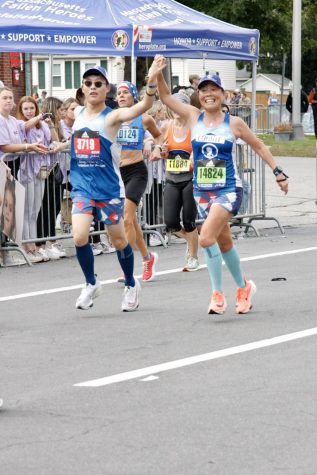 After connecting with Dougie's Team, Xu received a lot of support from the team and the community. Palmer was impressed by Xu's determination to run, despite being one of the youngest runners at 18 years old.
"He's an example of what people with autism can do at his age," Palmer said. "They have no limits, and the more people that hear his story, the more accepting people will be."
While Xu and Cao did not train much with fellow Dougie's Team members before the race, they still enjoyed the community of support.
"Because we live far away, we don't run with them often, but we still felt like part of the team," Cao said. "The Friday night before the race with the Flutie Foundation was very nice. They really make Enchee feel like part of the team, even though we don't join them for running that often."
Over the summer, Xu even had the chance to give a speech at the "26.2 Can-Do Fest," a Flutie Foundation event leading up to the marathon. 
"I really appreciate the family, teachers and friends who made my project a great success," Xu said in his speech. 
Between exceeding his fundraising goal and finishing the marathon in four hours and 15 minutes, Xu's first marathon was indeed a success. Xu and Cao plan to run together once again in the 2022 Boston Marathon next spring.