MCAS: yay or nay?
Freshmen, sophomores and some juniors wrapped up multiple days of MCAS two weeks ago, leaving students, teachers and administrators both relieved from test-related stress and pondering if the state's required standardized exam is truly productive.
MCAS (Massachusetts Comprehensive Assessment System) is a state-wide standardized test used to document students' knowledge of the curriculum according to standards in three subject areas. In order to pass the Science, Technology and Engineering test, (STE) a score of 220 or above is required. The baseline proficiency students need to meet in the English Language Arts (ELA) and Mathematics MCAS test is 240. 
According to the DESE School and District Report Card, in 2019, 27% of Algonquin sophomores exceeded expectations, 55% met expectations, 17% partially met expectations and 2% did not meet expectations on the ELA and Mathematics MCAS. The same year, the sophomore class showed stats of 55% advanced, 36% proficient, 8% needing improvement and 1% failing the STE MCAS. Students who score advanced on at least one exam and proficient on all others and have a combined score in the top 25% of the school district can earn the John and Abigail Adams Scholarship towards tuition at a Massachusetts state college.
This year, a total of about 650 Algonquin students participated in MCAS, and 19 juniors participated in the optional MCAS. Current sophomores will not need to make up their missed freshmen year STE MCAS. 
Algonquin freshmen took the Biology MCAS this year, while both sophomores and juniors were tested in ELA and Mathematics. However, MCAS for juniors was optional this year since it was waived by the state as a graduation requirement. 
According to a Harbinger survey of 107 students via Google Forms from June 6 to June 8, 69% of respondents said they believe MCAS is not beneficial to their education, 42% said they believe MCAS is sometimes an accurate reflection of students' knowledge and abilities and 57% of students felt that they were prepared for MCAS this year.
Principal Sean Bevan overviews the entire MCAS process.
"The purpose really is to identify a standard that all students in a certain state, like our own, need to achieve so that all students can meet those requirements before they get a diploma from our community," Bevan said.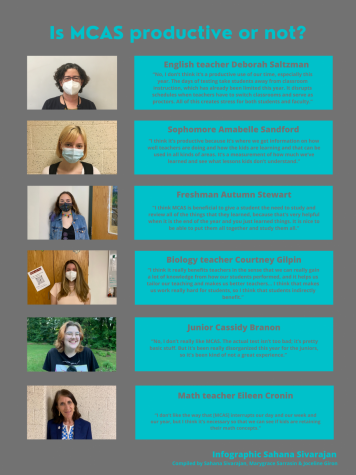 Assistant principal Andy McGowan believes MCAS has both pros and cons for students and the school as a whole. 
"Pros are that MCAS provides students the opportunity to see their performance against state learning standards, and it provides the school and state the opportunity to see growth areas in ELA, Math and STE and to see what areas we are doing well in as a school," McGowan said in an interview via email. "Cons are that in some cases it alters both learning and the environment during test time. For example, some classes will set a time in the curriculum to prepare for MCAS rather than continue other material."
McGowan is responsible for the preparation of MCAS testing logistics but questions if the standardized exam is the best way to evaluate how effective teaching and learning are at Algonquin.
"In areas we can grow as a school, yes, [MCAS] gives a bar of where we are aiming for and how we can improve in everyday useful life," McGowan said. "My personal opinion is I think that MCAS doesn't have to be as big as it is. That is a state decision, not ours. It allows us to make educated decisions as a school, but at this point, there are other ways for us to do this other than a statewide test."
Sophomore Amabelle Sandford took her first year of high-school-level MCAS this year, as her freshman year exams were canceled due to COVID-19.
"I think it is productive because it is where we get information on how well teachers are doing and how the kids are learning and that can be used in all kinds of areas," Sandford said. "It is a measurement of how much we've learned and see what lessons kids do not understand."
This year, students took MCAS on paper, but in 2019, the exam was administered on Chromebooks. There is an ongoing debate whether the paper or online version of MCAS is better. 
According to the Harbinger survey, 24% of students have no preferences when it comes to the paper or online versions, 35% prefer paper and 42% prefer online.
In the survey, one respondent said, "I dislike taking it on paper because my handwriting is always completely off, and it gets super messy. Also, having to bubble in the answers with two packets and everything is super annoying." 
Another respondent said, "Paper, for me, is much easier to read from, and it also makes note taking much easier. Also, for mathematics, it is extremely annoying to try to write out your answer on a computer. I am so glad that this year's MCAS is on paper."
Junior Cassidy Brannon was one of the juniors who took the MCAS even though it was optional.
"I took MCAS this year because I wanted to be eligible for the John and Abigail Adams Scholarship," Brannon said.
McGowan believes standardized testing is not the only way to see a student's abilities; however, he does believe MCAS will stay in the future of the Massachusetts education system.