Interact Club continues service, provides care packages during pandemic
While most of the world shut down this spring because of the COVID-19 pandemic, the Northborough-Southborough Interact Club did not let it stop them from reaching their goals of helping the community.
Twice during the height of the pandemic, the youth community service Club put together care packages for underprivileged members of the community.
"When the coronavirus hit, we were pretty unsure as to what to do," senior Interact president Sravya Tanikella said. "We came up with a list of ideas and we tackled one after another and the care packages came about."
Before assembling care packages, the Interact Club created a video featuring doctors, teachers and other community members speaking about their experiences with COVID-19 and sharing advice.
"After [the video], we definitely wanted to get our hands dirty," junior director Cynthia Rajeshkanna said. "We wanted to do something hands-on, and something we've done in the past that I think inspired us was meal packaging events."
In the past, the Club worked with a homeless shelter: serving food and interacting with the people who go there every day.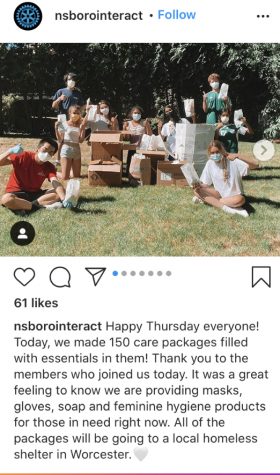 "We had made meals for this homeless shelter in Worcester, and we knew they were always in need of food, but we were thinking that they must be in need of PPE (Personal Protective Equipment) and some soap and just barebones materials," Tanikella said. "So, we decided we would put together this care package."
All of the care packages included cloth masks, soap, gloves and half contained feminine hygiene products as well.
"At that time when we were planning this, there were a lot of shortages of everything," senior vice president Andrew Yang, who now attends the Massachusetts Academy of Math and Science, said. "People couldn't get masks. They couldn't get hand sanitizer and stuff like that. We realized if we are having trouble finding these things, then imagine how difficult it must be for people who don't have that many resources in the first place."
They received outside donations, members chipped in and they partnered with the Days for Girls organization who donated masks and soap. The Interact Club is hoping to work with Days for Girls again in the future; their main focus is providing young girls in under-developed countries with menstrual care.
"[Masks and hygiene products are important] especially at a homeless shelter, where people come in and out all the time," Yang said. "You don't know who's coming in and if somebody has COVID, they might not know until two weeks later after they've already interacted with hundreds of people at the shelter."
In addition to the personal care products, the care packages included handwritten notes with helplines on the back. 
"Especially back then, in June, it was a lot more hectic so we just wanted to give people resources just in case they needed help either for mental health or COVID-related things," Yang said.
After the Club packed up about 150 packages while socially distant, Tanikella delivered them to the shelter.
"I personally went to deliver them myself," Tanikella said. "It was kind of in the early coronavirus time, so no one was going out so it was kind of scary. But once I got there I saw there was so much need. People were coming up to me and saying 'Do you have masks? Do you have masks? Can I please have one?'"
In early September, the Club organized another care package event, this time including toothbrushes and toothpaste and giving them to the families who utilize the Northborough Food Pantry.
While the Interact Club is looking forward to future projects, including continuing a $10,000+ project with Rise Against Hunger that was postponed due to the coronavirus outbreak, they are glad they were able to continue serving the community.
"I think the fact that we were able to help the community in a time where the community was really struggling was really amazing to me," Rajeshkanna said. "That was really special. I know since the community was struggling so much during that time, the fact that we were able to come together and help [was great]." 
If you would like to keep up with the Northborough-Southborough Interact Club follow them on Instagram @nsborointeract, or if you are a Northborough/Southborough resident age 12-18 and are interested in joining, email [email protected] with your name and grade.
About the Writer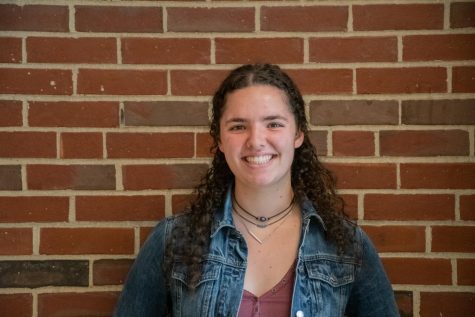 Laura Anderson, Managing Editor
After being reluctantly thrown into journalism class her sophomore year, Laura knew after the first day she was going to love writing for the Harbinger....