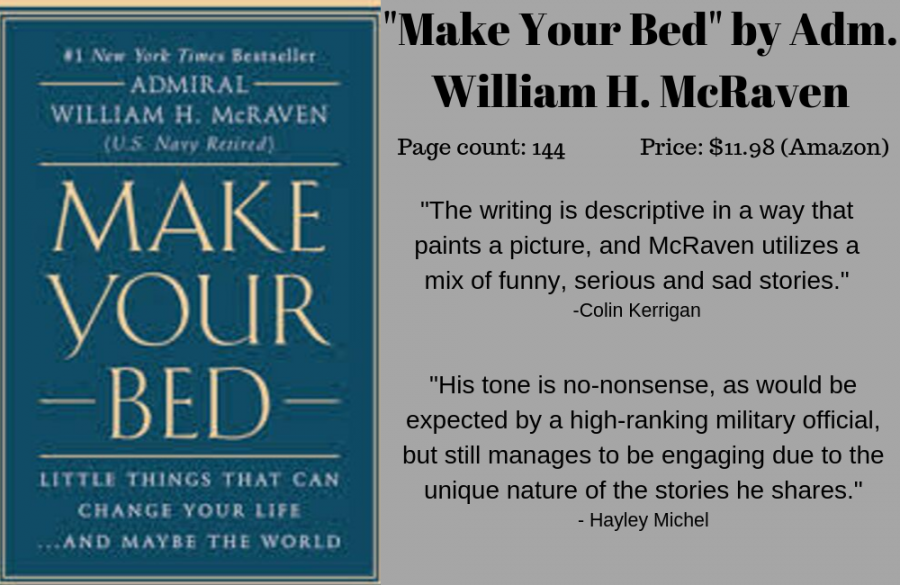 Graphic Liza Armstrong
REVIEW: "Make Your Bed" brings Navy SEAL training ideas to everyday life
November 4, 2019
McRaven connects to civilians through wit, description
You might think the life you live is very different from the life of a Navy SEAL, but the book "Make Your Bed" illustrates that you may be wrong. 
In "Make Your Bed," Adm. William "Mac" McRaven discusses 10 lessons he learned in the SEALs. Each chapter's title is a piece of life advice: often something as simple as making your bed every morning or not judging someone based on their size. All of these lessons can be applied to everyday life. McRaven backs up each statement using stories – one from training and one from his missions – that he recalls from his military experience.
"Make Your Bed" says a lot in a few words. The book has only 10 chapters, of about eight pages each, but each chapter expresses a new message, including only the most important details. The writing is descriptive in a way that paints a picture, and McRaven utilizes a mix of funny, serious and sad stories. The change in mood between stories allows for few, if any, boring sections of this book.
Overall, I would recommend  "Make Your Bed" to readers interested in stories that feel real and maintain excitement. While many non-fiction books easily bore readers like me who need constant entertainment, once I started reading, I could not stop, and finished the book in one night.
Leave a Comment
Navy SEAL gives insight to make differences in life
Do you make your bed every morning? Adm. William H. McRaven has been making his every day of his life since he set foot in Navy SEAL training. He believes starting your day with a task completed sets you up for success that day, slowly changing your life for the better. 
If you're looking for small ways to make a big impact on your life, "Make Your Bed" is an engaging, insightful read that is sure to help.
McRaven learned many incredibly valuable life lessons at Navy SEAL training. Though one might not expect these lessons to be useful in the life of someone outside the Navy, McRaven connects each lesson to his everyday life and explains how readers can use these experiences, such as the time he was in a parachuting accident, to improve their character by being more daring, cooperative, compassionate, and brave.
McRaven focuses on the 10 most important lessons he learned, which are organized into 10 chapters. Each chapter starts with, "If you want to change your life, and maybe even the world, start by….". He then tells the story of his experience at training, followed by a connection to life outside of the military. His tone is no-nonsense, as would be expected by a high-ranking military official, but still manages to be engaging due to the unique nature of the stories he shares.
In his easy-to-read, inspiring nonfiction book that ties together elements of an advice book with elements of a memoir, McRaven leaves you feeling humbled and ready to work to become a better person.
Leave a Comment