NCAA athletes deserve to be paid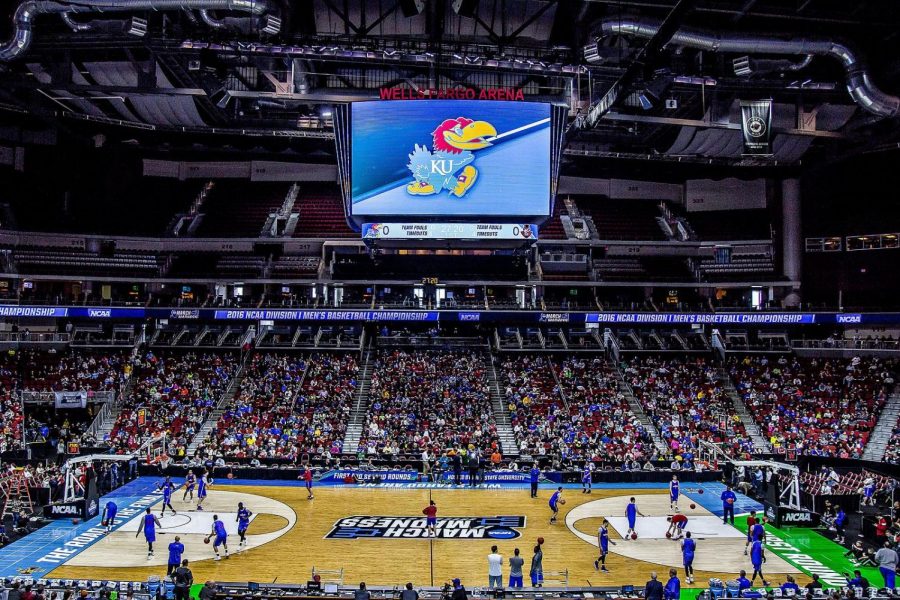 One of the most famous U.S. college sports tournaments playing out right now, March Madness, raises an important question that's often debated by fanatic college sports fans: should college athletes get paid?
According to the NCAA, there were over 97 million viewers of the 68-team March Madness tournament in 2018: an all-time high. But besides possible scholarships, college athletes do not get paid at all.
Yes, these college athletes are not professionals, but they still attract millions of viewers and fans to college sports, bringing in money for their programs. According to ESPN, the NCAA made over one billion dollars in revenue from 2016 to 2017. A large majority of that money–761 million dollars–came from the NCAA men's basketball tournament.
Duke University's men's basketball coach Mike Krzyzewski, or Coach K, is the highest paid coach in the NCAA. Krzyzewski makes 8.9 million dollars annually. Right behind him, Nick Saban, the head coach for the University of Alabama's football team, makes 8.3 million dollars.
Don't the athletes deserve to get paid, too?
Some may see the NCAA as athletes' auditions for professional leagues like the NFL and the NBA. Although they aren't playing at a professional level, lots of fans find it entertaining. For example, March Madness has a bracket that millions fill out to see if anyone can correctly guess how the tournament will play out. These athletes are dedicated to the sport and many are trying their best to impress professional league scouts. These efforts should be recognized, but in reality, most athletes don't get the recognition they feel they deserve and will never make it to professional leagues where they get paid for their talents.
According to a NCAA survey done in 2011, many athletes said they practiced at least 30 hours a week. These athletes dedicate their lives to their respective sports, but, according to the NCAA, under two percent of athletes in the NCAA go pro. When they don't go pro, they are left with nothing besides banged up bodies from years of competition and training. What they had dedicated their lives to, is no longer a possible career. So they have to go on and find a job after helping others make money off their talents.
Some college athletes often don't finish with a degree from the college they played for. This makes it harder for them to find a job since they don't have a college degree. Since they had dedicated all of their time to a sport, they haven't focused much time on developing skills needed to get a regular job.
With the risk they are taking by dedicating their lives to a sport, they deserve to get money so they can support themselves if their athletic career ends earlier than they hope. Being a college athlete is like a job. They are constantly trying to improve themselves as athletes by practicing and recovering for a huge chunk of the day.
Athletes not only don't get a paycheck, but they also have to turn down endorsement deals because of the NCAA, which doesn't allow them to accept these deals to make money. If the NCAA could change this rule, this would allow some athletes to earn money without needing to use their own profits to pay players. If players' jerseys are being sold, shouldn't the athletes make some of the profits?
Even those who play in college and seem destined for lucrative professional careers are at risk of never making money from their talents. Recently Zion Williamson, a 6'7" 284 pound freshman basketball forward at Duke, had a scary injury when he ripped his shoe and sprained his knee as he made a move toward the basket. He had turned the heads of many fans and NBA scouts, and many think he will be the first overall pick in the NBA draft, but that one injury could have put it all in jeopardy. It luckily turned out to be just a knee sprain, but that's not always the case for unlucky athletes.
But Williamson could've entered the NBA draft without playing a single game in college. Phenomenal basketball athletes like Williamson should be allowed to go straight to the NBA, but they aren't. They are required to at least play one year in the NCAA. Why should players like Williamson risk a big injury if they aren't getting any monetary incentive for playing in college?
With the amount of injuries in sports, it makes sense to pay the athletes. They are sacrificing their bodies for their teams, and they should be compensated beyond a scholarship.   
Most college sports fans watch Division I sports because it's the highest level of competition in college. I personally believe Division I athletes should be paid because of the dedication, time, effort and the risk college athletes have for injury. They provide entertainment for many sports fans and they deserve money.