Deal or No Deal starts new tradition, sends senior home with $100
Senior steering committee gave away three cash prizes, including $100, at Algonquin's first Deal or No Deal show on Tuesday, March 19 in the Black Box.
Hosted by senior class president Matt White, Algonquin's "Deal or No Deal" was set up the same way it is on T.V., where there are models holding briefcases with prizes inside. The contestant's job is to win the case with the highest prize using the process of elimination.
In school's version of the game, the highest possible prize was $250.
The contestants, senior Evan Scott, senior Nick Caracciolo and junior Michael Rogers, were picked to participate from a raffle. The first contestant chosen was Scott.
"[When I got called up], I was planning on getting the highest prize possible," Scott said, "I never play it safe."
In Scott's round, he rejected all of the banker's offers. By the end of the round, the two prizes on the board were $0.01 and $30. Scott could either keep the case he originally chose, or switch cases with the last remaining model.
Scott decided keep his case. When the prize was revealed, the value was only one cent.
"I was hoping to win $250, but even if I didn't, I thought I could win at least 50," Scott said. "When I won a penny, I was disappointed, but it was still fun to play."
The first round was followed by a brief intermission with a stand-up comedy performance by sophomore Chris Carreras.
The next contestant chosen from the raffle was Caracciolo.
"I was super nervous when I got called up, but as the game progressed, I ended up having a lot of fun," Caracciolo said.
Caracciolo's strategy was similar to the way Scott played; he took risks and rejected all of the banker's offers. He had much better luck and went home with a $100 prize.
"I'm super happy with the prize I won; it was a really fantastic experience to watch and even more fun to play," Caracciolo said. "I'm $100 richer than when I started the day."
Another stand-up comedy performance by senior Mario Mikhail followed the second round. When it was time for round three, junior Michael Rogers was chosen to play the last round of Deal or No Deal. He finished with a prize of $10.
Although some of the largest prizes, such as $250, Airpods and a Google Home, were not given away, the show was still a huge success. According to White, the event was a fun and exciting way for T-Hawk nation to show their spirit.
"I planned this event for the student body to have fun and be unified because I think that our school lacks both of those things at the moment," White said. "I wanted to give students an exciting reason to come back through the doors after 1:50."
Since "Deal or No Deal" was the first of its kind, White prepared immensely for the event.
"It almost took the effort of a mini-production, as we spent hours late at night perfecting lights, sound and timing in the black box," White said. "We had to make and code the prize board, design the briefcases, collect the prizes, and coordinate with 22 seniors who dressed up and were the ones opening the cases. Since I was the host, I spent hours researching the show, it's rules and getting a feel for what I should say and when."
Senior Paige Basteri participated in the show as a model.
"[White] asked my friends and I to model and we were all so excited to help our president with something fun for the school." Basteri said.
White hopes to see underclassmen continue the tradition of Deal or No Deal even after he graduates.
"I think that by creating and following through with new traditions, we can rebuild the school spirit that we have lost in the past three to five years," White said. "Holding annual events is just one way to establish continuity and make the student body feel connected, so I don't see any reason not to continue 'Deal or No Deal' [in the future]."
About the Contributor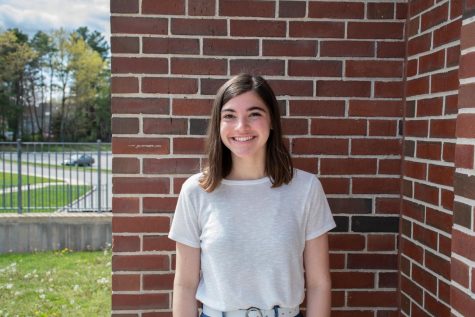 Jenny Lambert, Sports Editor
Jenny started writing for the Harbinger her sophomore year in journalism class and became assistant sports editor soon after.  She is currently head sports...